I was in my late twenties when I learned that I had been buying the wrong size of bra for most of my grown-up life. Imagine my surprise when I finally figured things out and then got pregnant, turning everything I thought I knew about the world of bras and boobs upside down. I got thrown for yet another loop when my baby was born. My breast size increased, my cup size changed, and suddenly I needed to find bras with easy access to free my nipples on the whim of my screaming newborn. The breastfeeding journey can be a heck of a ride, but buying a great nursing bra doesn't have to be. If you're wondering where to find the best nursing bras out there, this is the place to start!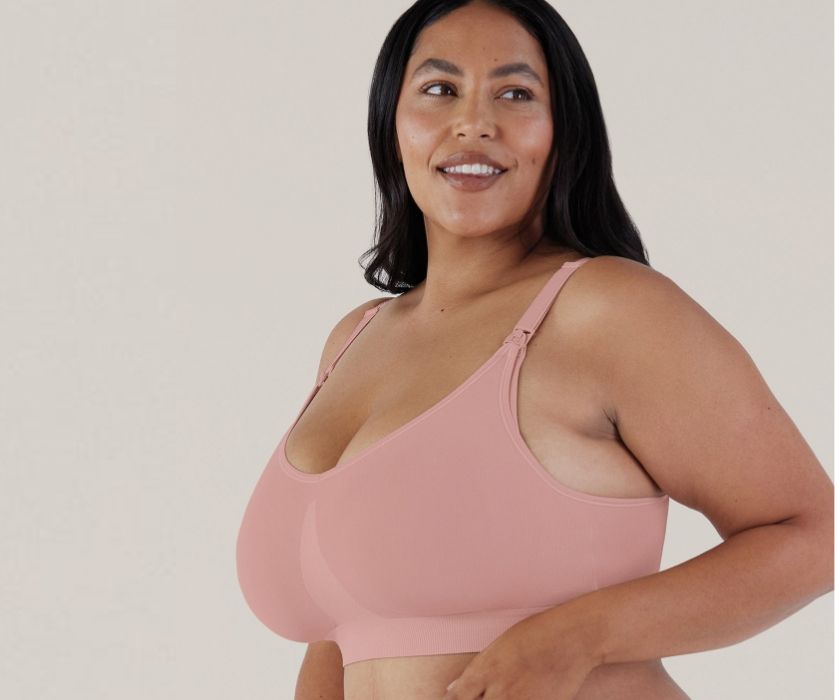 The Body Silk Seamless Nursing Bra wins top points for comfort, support, fit and quality. Many reviewers agreed that it's the best maternity bra out there thanks to its stretchy Eco Adapt nylon fabric that'll take you through all the body changes of pregnancy and breastfeeding. Some other features folks raved about included the removable foam inserts that are moisture-wicking and the perfect thickness to keep you dry without being too bulky. The Bravado 'B' nursing clips can be popped open with one hand, meaning even the squirmiest baby can be fed in a flash. Bravado's inclusive size range fits bands from size 32 to 46 and cup sizes from B to J. You can find it on the Bravado website, Nordstrom, and Amazon.
Any time you can squeeze in a little extra comfort to pamper your miraculous, baby-makin' bod, you've gotta take advantage of the opportunity. The Everything Bra from Bodily exists to help you do just that. Not only is it super soft and stretchy, but it was also designed with a lactation consultant to ensure your breast health stays in tip top shape to minimize run-ins with mastitis and clogged or plugged milk ducts. Thanks to the extended back closure and front-adjustable straps, this dream bra can keep you comfy throughout pregnancy, breastfeeding and beyond. You can find it on the Bodily site here. (I'm also a big fan of Bodily's Nip SOS bundle.)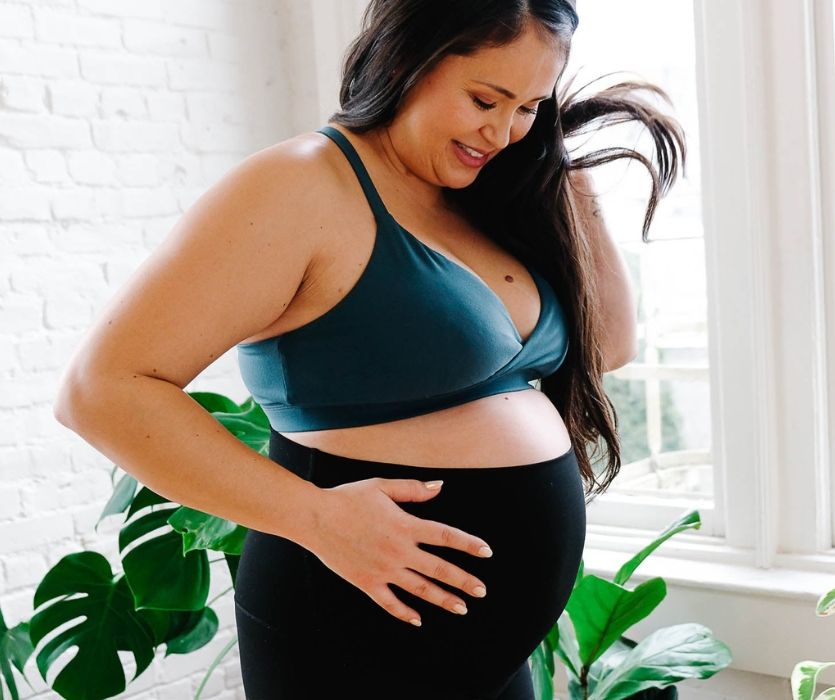 Anyone who's worn the Foxy Bra from Avyn can't say enough about the clip and wire-free design and buttery soft, 4-way stretch fabric that makes it the perfect bra for work, working out, or just wearing basically 24/7. The crossover design on the front allows for quick pulldown access, making nursing a breeze, and fans of this bra also love the cute detail of the strappy back. The XS to XL sizing fits folks with bra sizes from 32A to 40C. You can find it on the Avyn site.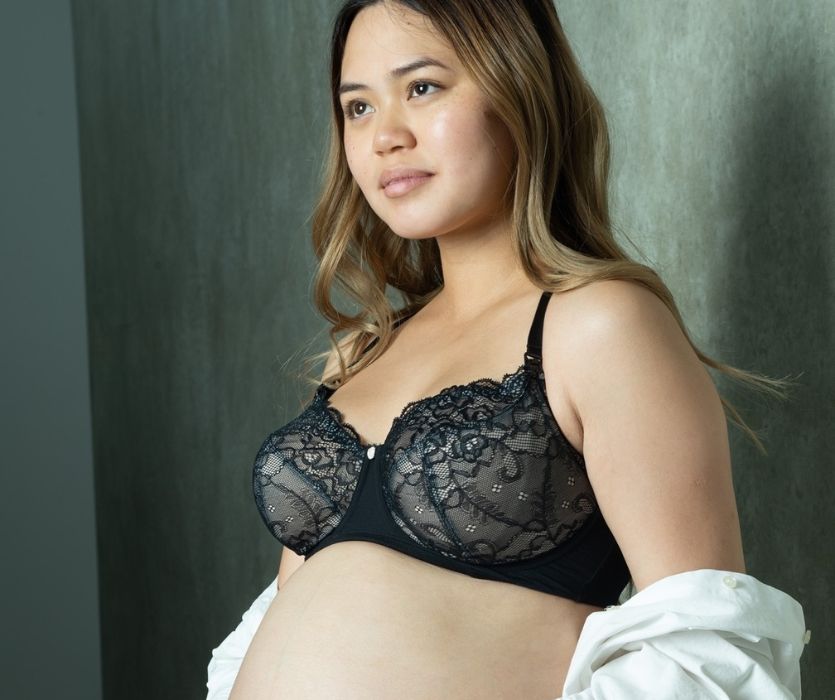 Just because you've got a baby hanging off your boob 26 hours a day doesn't mean you can't look good doing it. The Temptation Black Nursing Bra from hotmilk is the perfect lace bra for dressing up or wearing every day. Popular features of this bra include the fully adjustable straps that can be converted to a racerback style, super supportive flexi underwire, and full coverage for busts up to an M cup.  Get it on the hotmilk website or on Amazon.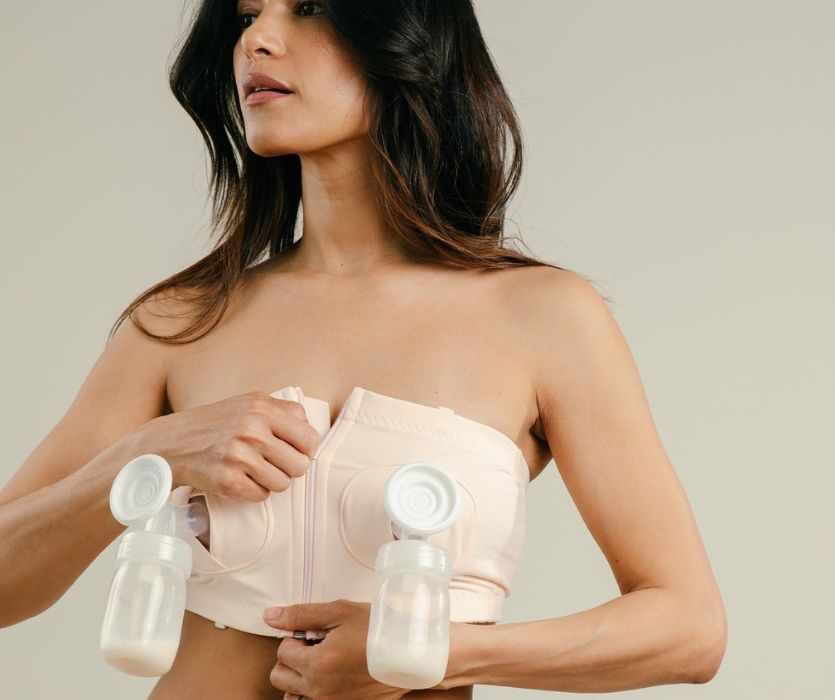 Anyone who's ever tended to a newborn while attached to a breast pump will tell you that a hands-free pump bra that lives up to its name is worth its weight in liquid gold. The Adjustable Hands Free Pumping Bra from Simple Wishes is a game-changing pumping bra with over seven thousand 5 star reviews. The layered design at the pump insertion points and adjustable velcro back panel create a secure fit for pumping people with cup sizes up to a J. Many reviewers have been so impressed by the function and comfort of this bra that they've bought multiples so they don't have to go a day without it. Get it on the Simple Wishes website, Target, or Amazon.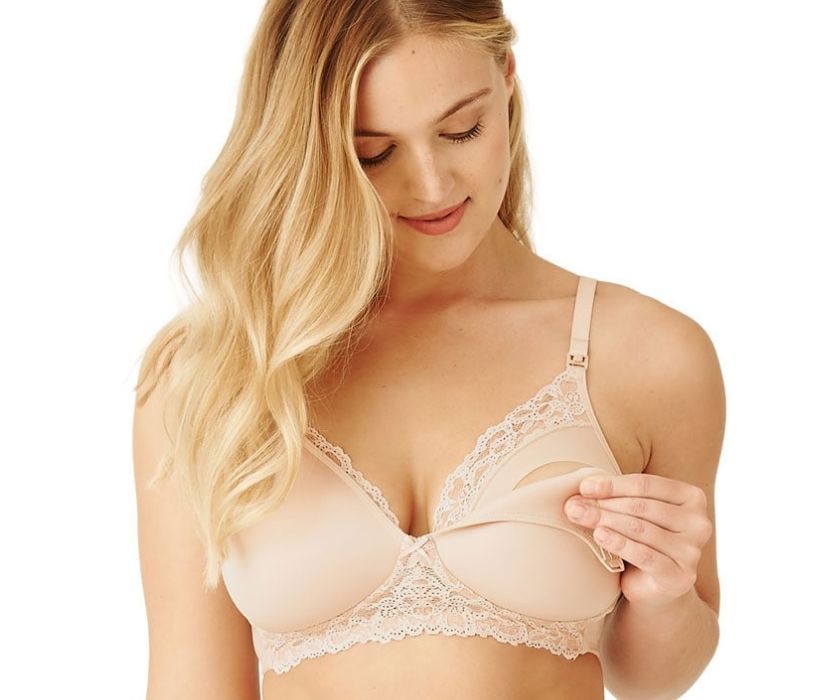 The Wire Free Nursing Bra from Wacoal is the perfect full coverage t-shirt bra for folks who don't like the feel of an underwire but still want the support. There's no threat of your boobs going rogue during nursing either,  thanks to the internal A-frame stability sling. The hook and eye closure at the back has five adjustments, giving you room to grow in this super comfy bra that reviewers say will become a staple for anyone with a cup size up to a G. Find it on the Wacoal site or Amazon.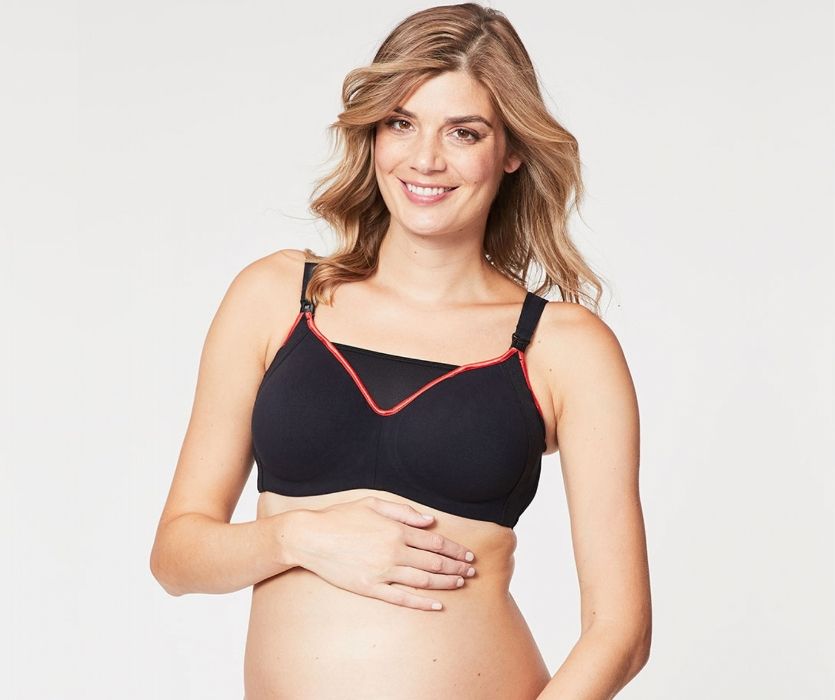 Check out the Zest Nursing Sports Bra for a sports bra designed with movement and nursing at the forefront. This super supportive bra will keep everything in place while you're active, thanks to the full coverage cups and flexi-wire support. If you're bringing your baby along as you exercise, the easy-feed clips and drop down cups make lactation breaks a breeze. The six hook and eye options mean this bra can be your second favorite workout buddy (after your baby, of course) as your body grows and changes. Get it on the Cake Maternity website or on Amazon.
The Ultimate Sports Bra from Shefit isn't a nursing bra per se, but it does come with a front zip, making it totally accessible in the moments when milk strikes. The two-way stretch fabric helps breasts from an A to an I cup stay put and reduce bounce. The wide, padded straps and wire-free cups offer support while keeping things comfy. You can find it on the Shefit website or Amazon.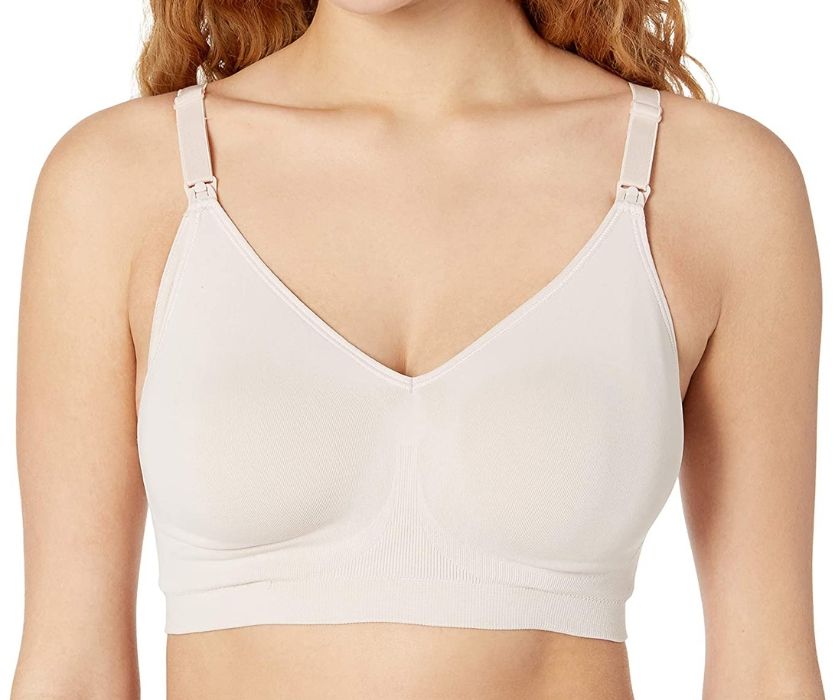 If you're always on the hunt for a killer deal, the Maternity and Nursing Seamless Wirefree Bra from Playtex is about to knock your socks (er… bra?) off. The polyester spandex blend and cool comfort fabric in this classic nursing bra are designed to keep you comfy, cool and dry, and the wire-free ComfortFlex fit means this bra can be worn throughout pregnancy and nursing for cup sizes between a 36B and 46DD. Amazon has a great selection starting at about 16 bucks. Get it here.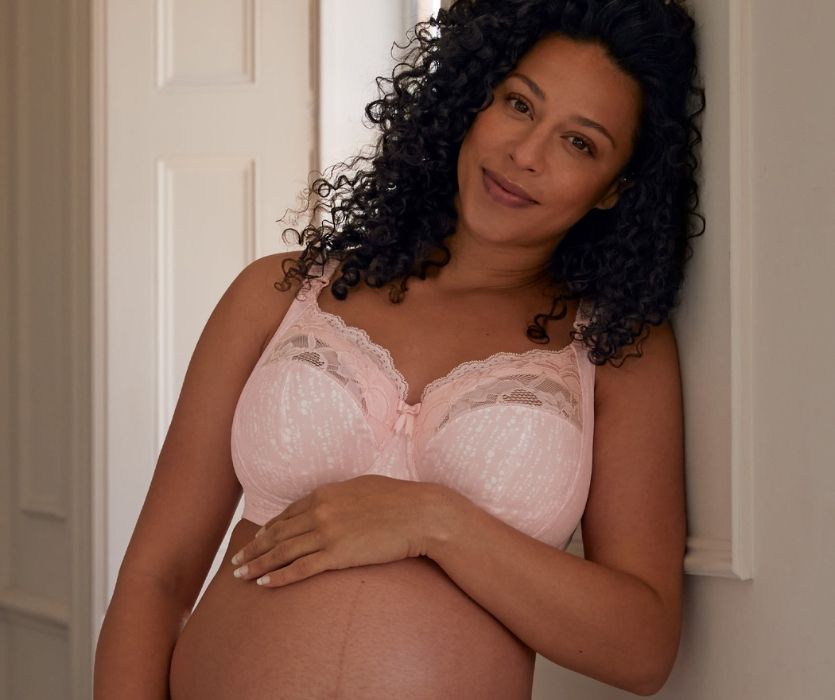 The Molly Nursing Bra from Elomi is the bra of choice for moms with larger busts. This banded underwire bra has three piece cups with side support as well as a full circle internal foam sling for support while nursing in sizes up to a KK cup. It's also got a clip on nursing clasp that's easy to release and fasten with one hand and moisture-wicking fabric to keep you feeling fresh and dry. You can find it on the Elomi site, Nordstrom and Amazon.
For additional options, check out our post: Best Places to Find Nursing Bras in Larger Sizes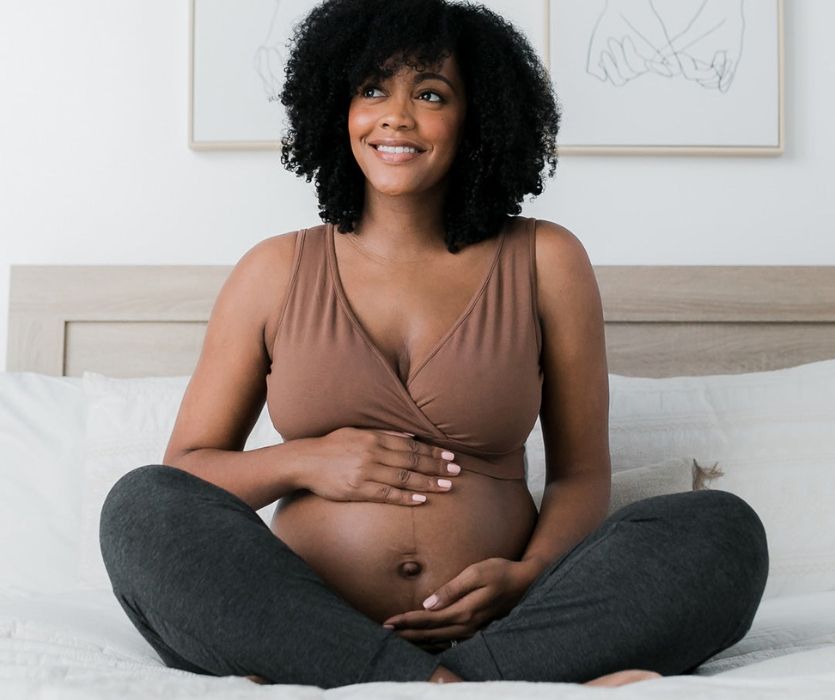 When you've got a munchkin who likes to party intermittently throughout the night, anything else that might take away from the moments of sleep you do get is a no-go. The Organic Cotton Nursing and Sleep Bra from Kindred Bravely was designed to ensure you can capture every precious wink in comfort (and can wear it during the day, too). The wireless and padding-free crossover design is comfy to wear in any sleeping or lounging position and can be pulled aside for easy nursing access. It's available in sizes from 28B to 40G. You can find it on the Kindred Bravely website.
Did your favorite nursing bra make the list?
Do you have another bra that you swear by? Tell us what you love about it in the comments!
Our next reco: 5 Biggest Mistakes Women Make When Buying a Nursing Bra