Huckleberry's free app is an easy baby tracker and a parent favorite, but what do their premium plans offer? Is the upgrade worth it? Here's a full review.
What is Huckleberry?
Started by data-loving parents who were desperate for a good night's sleep, Huckleberry is an easy to use app that uses algorithms, sleep experts, and AI to give you step-by-step guidance to unlock better sleep for your baby – and by extension, hopefully you!
It combines three things many new parents are looking for into one easy interface you can keep in your pocket – a baby tracker, access to expert advice, and sleep guidance specific to your baby's age and sleep situation.
Huckleberry has tons of features that cater to the specific needs of every family, whether you need help with wake windows, naptimes, sleep regression, breastfeeding, or advice from a traditional sleep consultant. With a paid subscription, you can access baby sleep experts who have a deep understanding of your child's development and statistics, giving you a better understanding of your child's first years.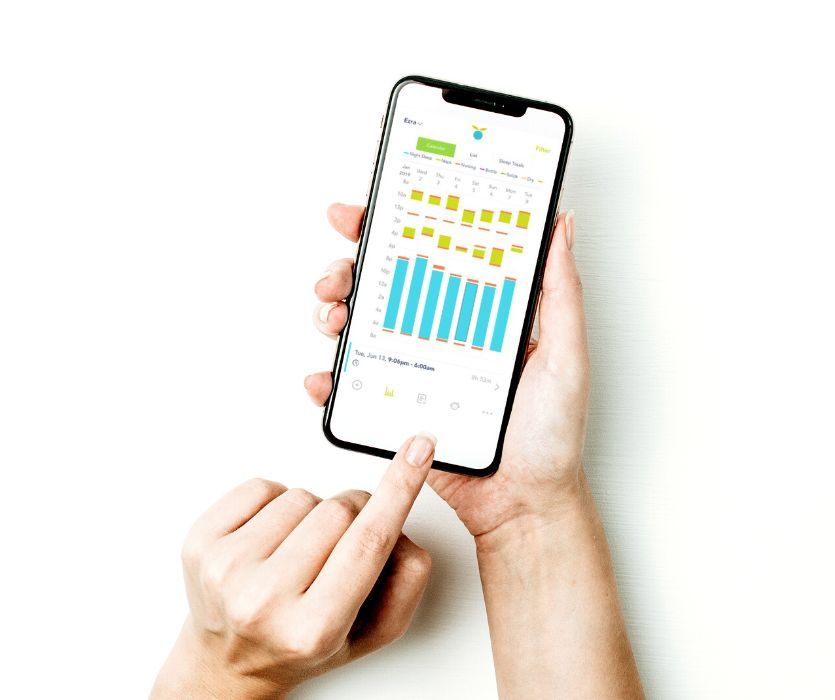 What's the SweetSpot?
When reading reviews about the Huckleberry app, the feature most people found helpful is SweetSpot – what the company refers to as their 'magic' sleep predictor and preventer of overtired babies.
This is only available in the paid versions, and as its name suggests, it helps you find the sweet spot for when you should start thinking about sleep for your baby.
Using data like your child's age and daily sleep patterns, it takes the guesswork out of when they're approaching a sleep window, making nailing down the optimal nap or bedtime easier.
Of course, it isn't perfect, but many people said it was pretty spot on and helped them learn to identify sleep cues, which is a huge new parent milestone to check off.
Huckleberry Memberships: Free vs. Paid
As with many other subscription services, there are tiers that offer different perks. One nice thing – all tiers can accommodate multiple child profiles, and come with multi-caregiver sync, meaning any caregivers who are watching the baby can input data (like sleep or wake times, feedings, diaper changes or medications given) and have full access the schedule for the day, which means you – theoretically – don't have to be the default point person answering texts about when the child's next naptime or next diaper change is.
Another free perk is access to their blog, which offers expert advice on things like development, feeding, and sleep. It even includes example schedules for babies ranging from newborn – age 3 so you can get an idea of what kind of sleep schedule your baby should roughly be on.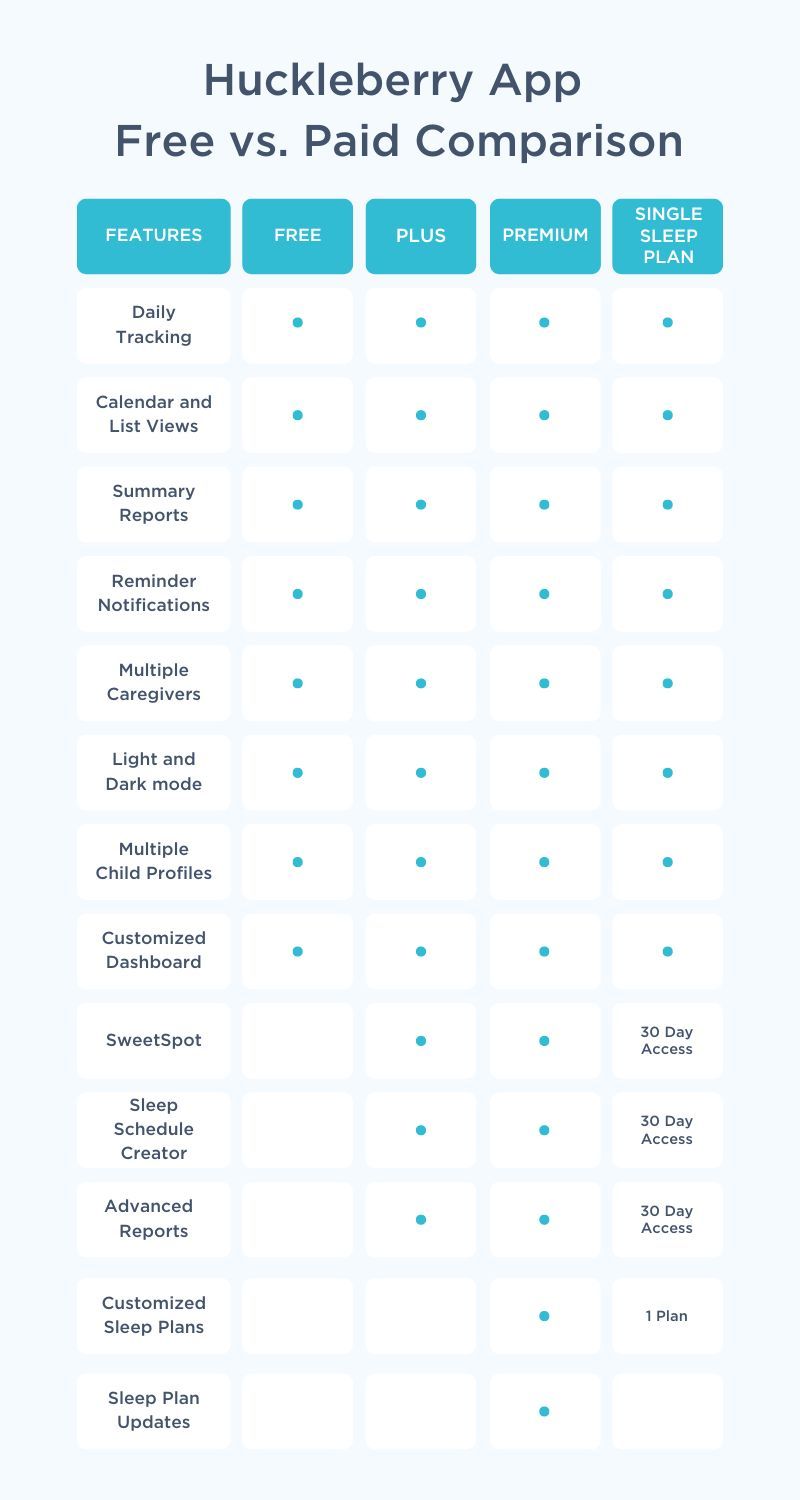 Free
Huckleberry's free app keeps track of day-to-day activities, like sleep, diapers, feedings, pumping and bottle feeding, solids, medications, growth, and temperature.
It gets high marks from people who want an easy way of tracking this daily data – especially new parents who are getting asked about these things during frequent pediatrician appointments in the beginning. That said, it also gets praise from parents of more than one kid when they're spread so thin they want a little help remembering the details of the day.
COST: Free
Huckleberry Plus
Plus has all the perks of the free membership, with the addition of SweetSpot – their sleep predictor feature (more on this below), a sleep schedule creator (for ages 2 months-5 years old), and advanced sleep summary reports for all those parents who love digging into the data with daily charts.
COST: Month: $9.99 Year: $59.04 ($4.92/month)
Huckleberry Premium
Premium includes everything the Free and Plus memberships have, as well as a customized sleep plan with age-appropriate sleep schedules and the ability to get ongoing guidance as your baby grows and changes.
COST: Month: $14.99 Year: $119.88 ($9.99/month)
Single Sleep Plan
For a one-time payment of $30, you get access to all the features in the Free service, as well as 30 days of access to everything included in the Plus service (including SweetSpot). In addition, you get a customized sleep plan.
COST: $30
What's the difference between Huckleberry Plus and Premium?
The main difference between Huckleberry Plus and Premium is how comprehensive the sleep plan is.
With Premium, after filling out a detailed questionnaire, an in-depth analysis is performed by sleep experts and AI, and a customized sleep plan is created that maps out day and nighttime sleep schedules. Premium also includes extensive sleep tracking, so you can better see what is and isn't working, and the ability to work with experts to update your plan as your child grows.
How long is Huckleberry's free trial?
The free trial is 14 days, but when the 14 days start depends on the age of your child. If your baby is two months or older, your free trial starts when you sign up. If you're expecting or your baby is less than two months old, your free trial won't start until your baby is two months old, when the features offered in SweetSpot are relevant to your baby. That said, the guides and tracking services are there to offer a little extra help from day one.
Huckleberry Pros and Cons
🟢 Pros:
The overwhelming majority of positive reviews were based on how helpful users found the SweetSpot feature, and many users said that alone was worth the upgrade – at least until they figured out how to better read their baby's cues on their own or their baby's schedule really firmed up. Other positive reviews mentioned finding the baby tracker helpful and the user interface easy to use.
Great baby tracker
Easy to use
Support for multiple users
Personalized sleep plans are tailored to your child's individual sleep needs
Includes detailed data on sleep patterns, including the number of hours slept and wake-ups during the night
Reminders when it's time to start the bedtime routine or give a heads up when your child is nearing a wake window
Recommendations from sleep experts and pediatricians
Affordable compared to other sleep coaching services, costing only a fraction of what you would pay for an in-person consultation with a sleep expert
Make you feel more confident around sleep decisions
Includes a dark mode
🔴 Cons:
People were a little more mixed on the sleep schedules, with the main point being they aren't exactly reinventing the wheel but rather packaging already established good sleep info in a way that is easy for sleep deprived parents to understand/execute. Comparisons were drawn with Babywise, a popular sleep guide with ample free online resources and a relatively inexpensive book.
Designed specifically for children between the ages of 4 months and 3 years old, so it may not be as useful for parents with older children
It can make you obsess over sleep (not for everyone's temperament)
It can make you second guess your gut when you're trying to figure out what's troubling your little (unexpectedly tired/hungry, even though they shouldn't be from a timing perspective)
The app has a messaging feature, but it's not an instant chat
The customized sleep plan isn't instant, and some users were able to figure out a routine that worked for them by the time they got it
To make the most out of the app, you have to input data which takes time
The game changing feature (the SweetSpot) is only in the paid versions
Here's what a few real life users said about it:
"Loved it! Even paid for it when it went paid!!" Kim – Pregnant Chicken reader
"I really like it for keeping track of both feeding and sleeping. If LO was grumpy, the first thing I would do is open the app to see is it was likely that he was hungry or sleepy. Amazingly helpful. Even now, it's the first thing I check when my kid is grumpy, because with being sleep deprived everything is a hazy blur and two hours can pass without me realizing it." Digzalot -Reddit
"…since we've been using the app for day sleeps our bub has learnt to self settle and now for night sleeps we do the bedtime bottle, burp and put her in the bassinet and when we do the feed throughout the night, even if she is awake when we put her down, she can settle herself back to sleep." SS0522 – Babycenter
"All it did was make me obsess over his naps and sleep even more and get frustrated when he wouldn't fall asleep when the app told me he should." Mrs-his-last-name – Reddit
"Yes! I pay for it for the entire first year of my babies' lives and it helps so much." Amanda – Pregnant Chicken reader
"I've found it very helpful because I love data and being able to find patterns I wouldn't see if I wasn't tracking. I paid for a year of their premium and do the monthly sleep analysis and I do use a lot of their recommendations but I don't think it's anything revolutionary." UnhappyReward2453 – Reddit
"It was especially helpful when she was taking 3+ naps per day, now that we're at 2 they're more predictable and she's way more flexible. Before that if we went too long she'd take forever to go to sleep and have a short nap or wake a lot at night." colinrobinson8472 – Reddit
"I used it when it was free with my first and loved it! The nap prediction is spot-on. I was annoyed to see that it's now paid, but I gave in and paid so I would get the sweet spot prediction. We lived by it for my second kid's whole first year. My subscription just ran out and I am already missing it. Lol Would definitely recommend 100%" Ancilla – Pregnant Chicken reader
Is Huckleberry App Premium worth it?
The app offers both free and paid versions, with the SweetSpot being the standout feature in the paid version. While the free version is still useful, upgrading to the paid version is likely worth it. The cost of the upgrade is relatively low compared to hiring a sleep consultant, making it a worthwhile investment. (Keep in mind sleep was my number one nemesis, so I'm probably a little biased here.)
The 14-day free trial would give you enough time for most parents to figure out if the app works for them, so I would say it's worth checking out. You can see all the plans (including the free version) here if you want to check it out.
Have you upgraded Huckleberry?
What did you think? Was it worth it for you?
Also check out: Best Pregnancy and Baby Apps Voted by Parents