If you have a new baby on your gift list this year, here are some perfect gifts that will be put to good use AND don't make noise. I tried to stick to recommendations that were thoughtful but also useful for new parents. Most of them are new this year and a couple are just cool so that they made the list.
Holiday Gifts for Newborns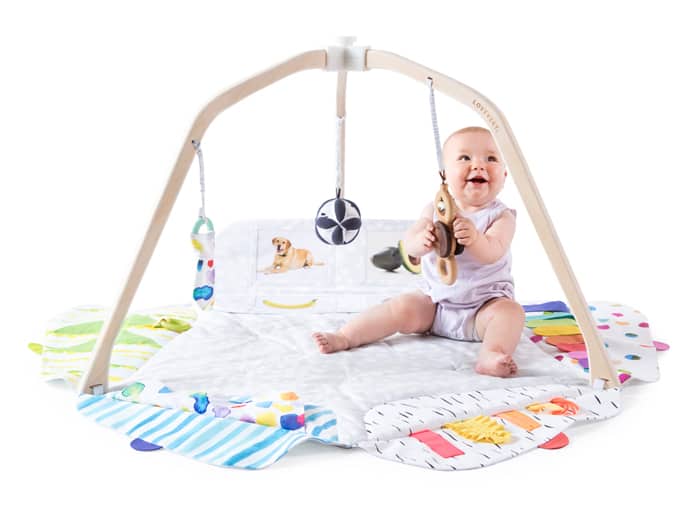 Lovevery Play Gym
Lovevery's award-winning gym includes everything you need for a whole year of play. Designed by child development experts, this play mat has five development zones that reveal or conceal to prevent overstimulation and promote learning and tummy time. You can check it out on the site.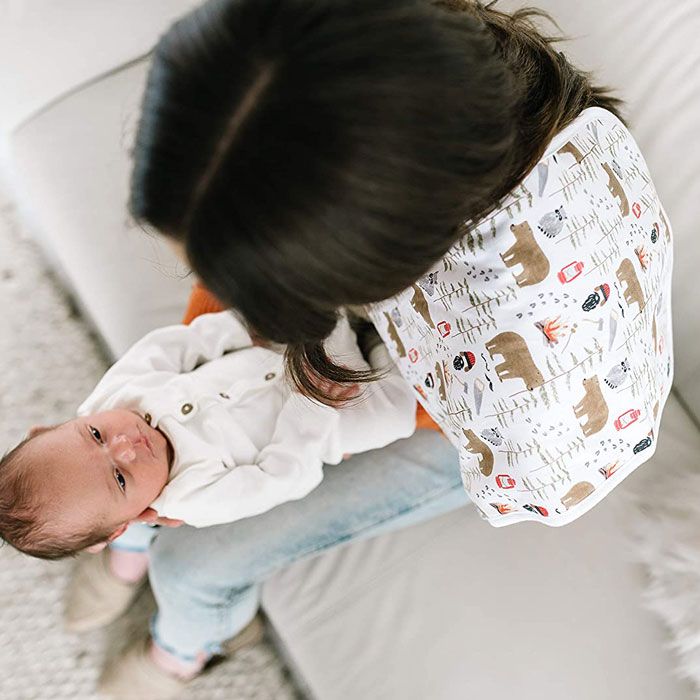 Copper Pearl Premium Burp Cloths
I tried to stay away from baby gear that would be on a registry but fresh burp cloths are like fresh socks and underwear – a standard but so nice. If new moms and dads are going to walk around wearing one as an accessory, you should make it fashionable with these soft burp cloths from Copper Pearl. You can find them here on Amazon and on the Copper Pearl website.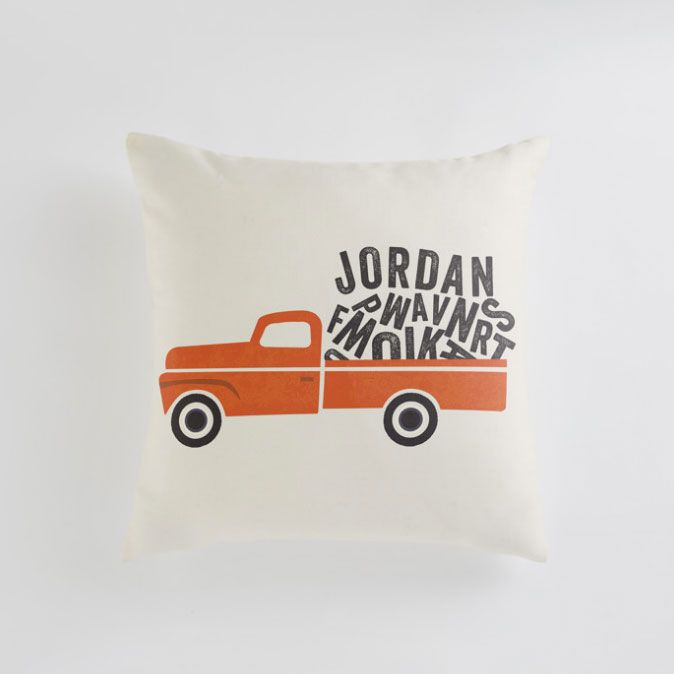 Personalized Pillow
Minted makes these gorgeous custom pillows that do a beautiful job of weaving the baby's name into the design. They have florals, rainbows, animals and graphic designs to suit any nursery decor. (Use the code PCHX15 to get an extra 15% off.) You can find them all here.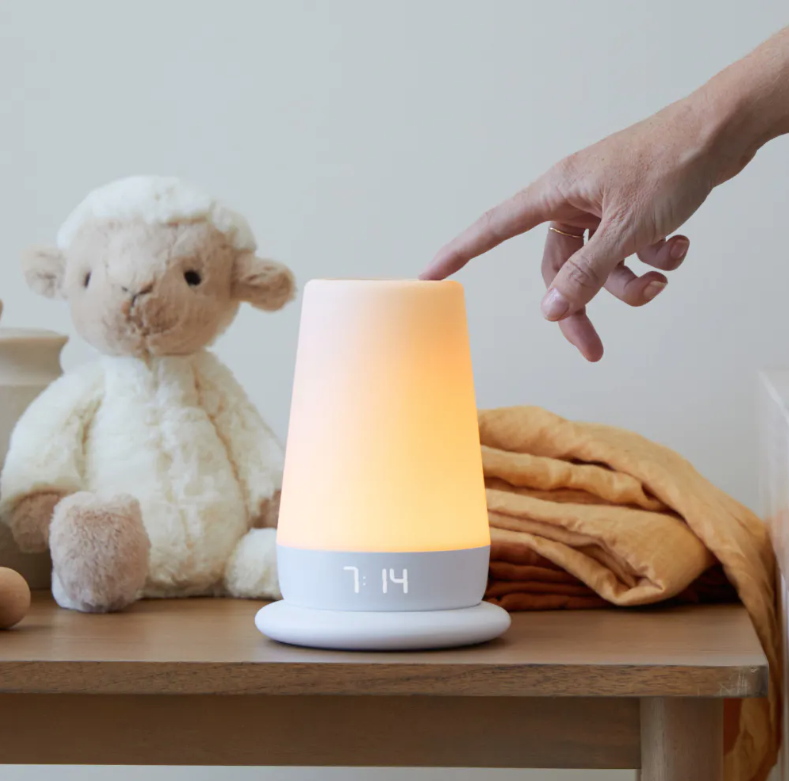 Hatch Rest+ 2nd Gen
This handy Rest+ serves as a night light, audio monitor, and white noise sound machine. You can adjust the colors, timing, and volume from your phone! (You can read my review here.) Then, as your kiddo grows, you can use it as a time-to-rise indicator, as well as part of your bedtime routine. You can shop them here.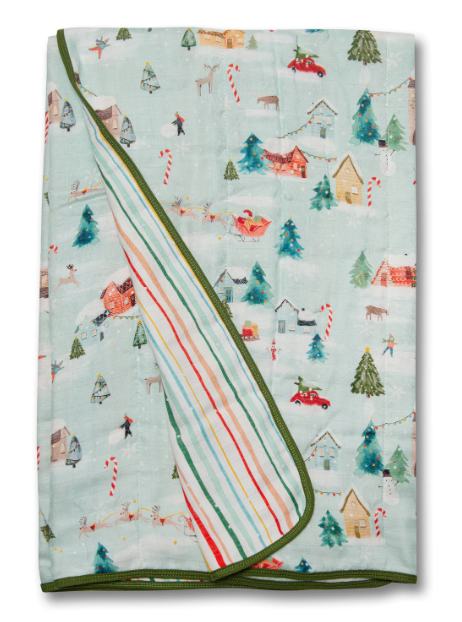 Muslin Quilt Blanket
If you're looking for a gift with a full "WOW" factor, these reversible quilts from Loulou Lollipop are made from four layers of bamboo and cotton muslin fabric and feature hand-drawn watercolor prints. It's generously sized, measuring 47″ x 47″ to grow with baby through the toddler years, and are great for tummy time, playtime, and as a stroller blanket. I picked the Merry and Bright pattern (maybe it's the holiday tradition of snuggling up in it to watch Christmas movies with hot chocolate. Who knows! 🙂  but they come in a variety of patterns. You can shop them here.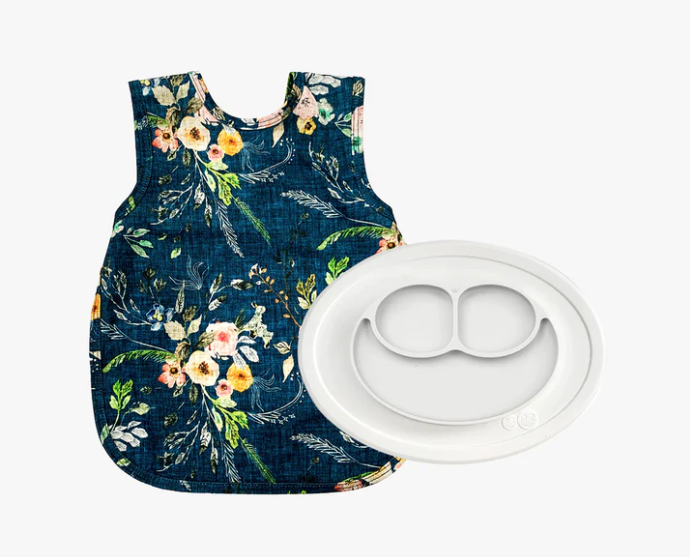 ezpz Mini Mat + Bapron Bundle
The bundle includes the food grade silicone ezpz Mini Mat (their top-selling mat) and the Bapron, a machine washable bib-apron hybrid that ties around the body rather than the neck for a safer and more comfortable fit. Find them on the ezpz site or you can shop ezpz and Bapron separately on Amazon to create your own bundle.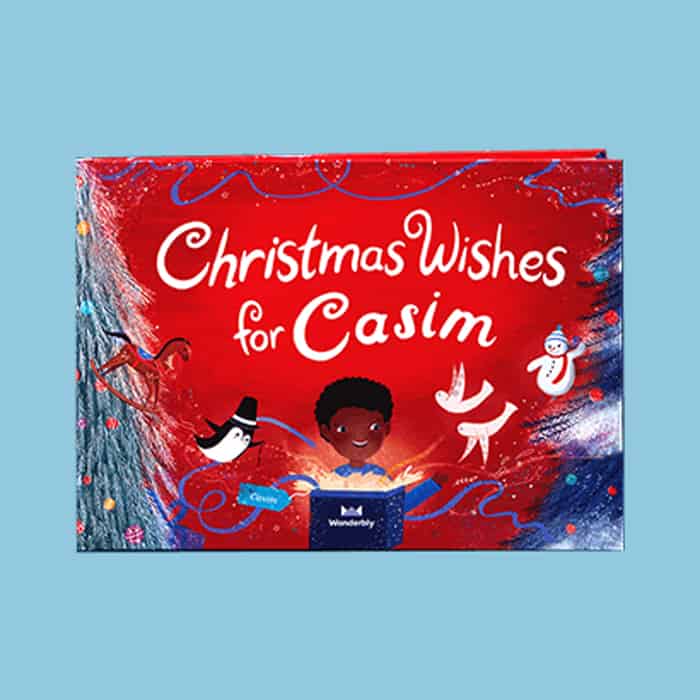 Wonderbly Personalized Book
This site creates very beautiful, very well-written custom books. We have the Lost Your Name book and it will forever blow my mind with how cool it is. Some custom book companies just plop a name in the book but these truly look like they are one of a kind. You can buy them on the site.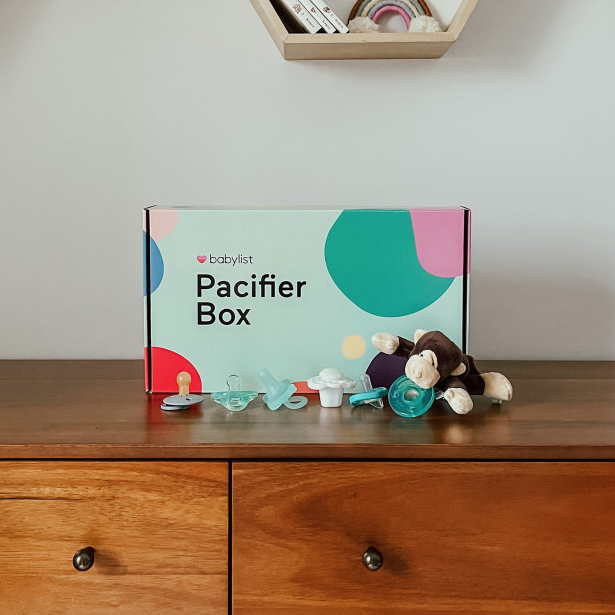 Babylist Pacifier Box
When choosing a pacifier, know this—the best pacifier is the one your baby will take. The box comes with six top pacifiers so you and your baby can try them out to see which one they prefer. You can find the box here.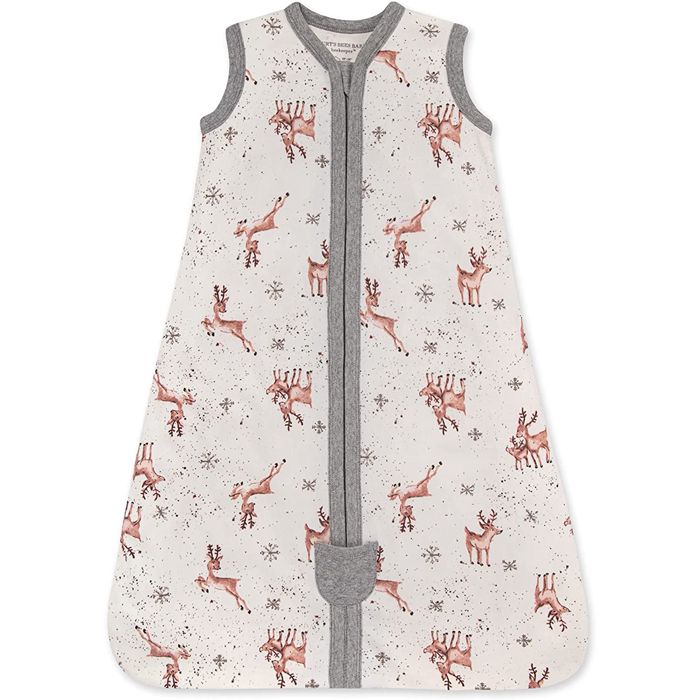 Wearable Blanket
Baby sleep sacks are a safer alternative to blankets for newborns and infants and are super popular in the parenting world. I like this one because it zippers from the top and the bottom for easy-to-access diaper changes. This one features a reindeer (it's called Dasher & Dancer) but if you prefer a giraffe or a butterfly, you should be covered as they have tons of designs. You can find them on the Burt's Bees site and on Amazon.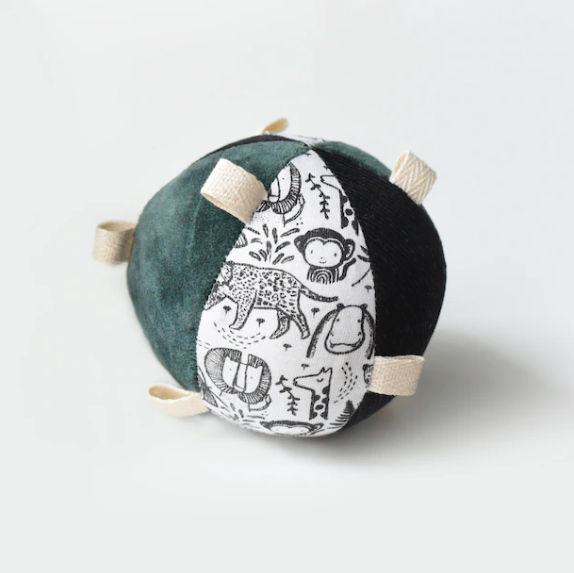 Taggy Ball
This sensory taggy ball from Wee Gallery with an organic cotton shell features high-contrast hand painted graphics that grab the baby's attention visually, while its textures and rattle provide tactile and auditory stimulation. You can find it on Amazon.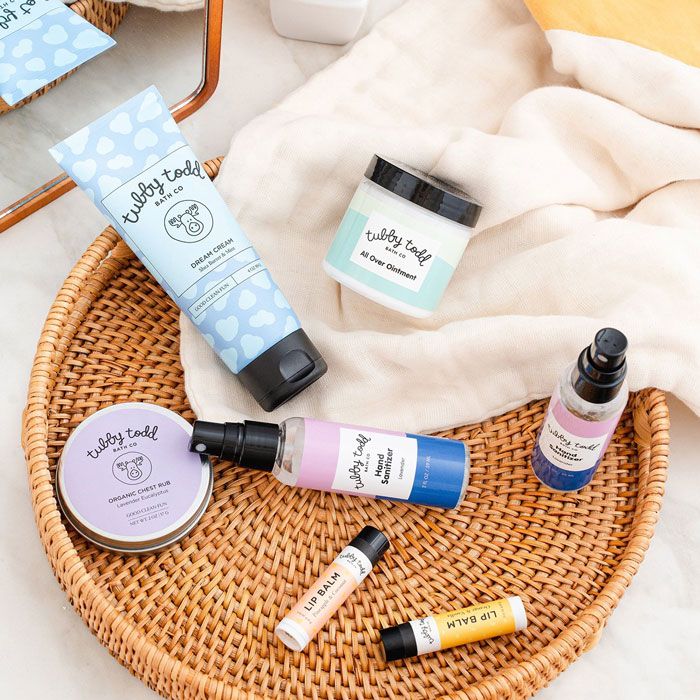 Tubby Todd Winter Bundle
This stuff is the best. You know I'm a huge fan of the All Over Ointment – it's not too greasy and it heals all that ails wee ones. (You can see my review here.) So, I was excited to see that they have included it in a Winter collection gift set that includes diaper cream, chest rub, and lip balm. You can shop it on the site.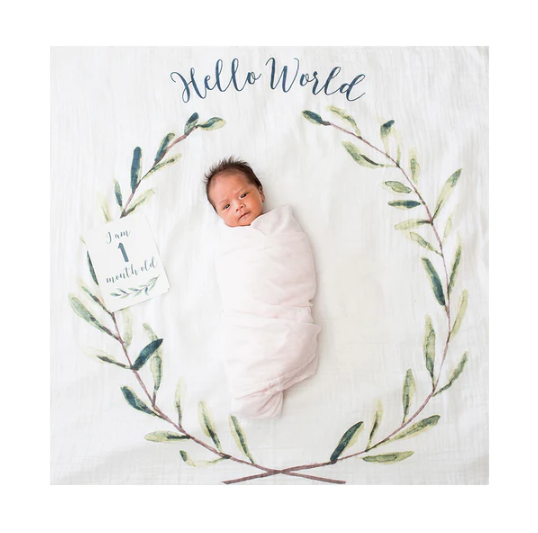 Baby's First Year Blanket
This photograph backdrop makes the monthly growth pictures a snap. It's a soft 40 X 40  blanket that can be used for swaddling, nursing, or covering the baby. Each month, simply lay it out and add one of the pre-printed month props to keep track of how big your tiny baby is getting. You can shop them here.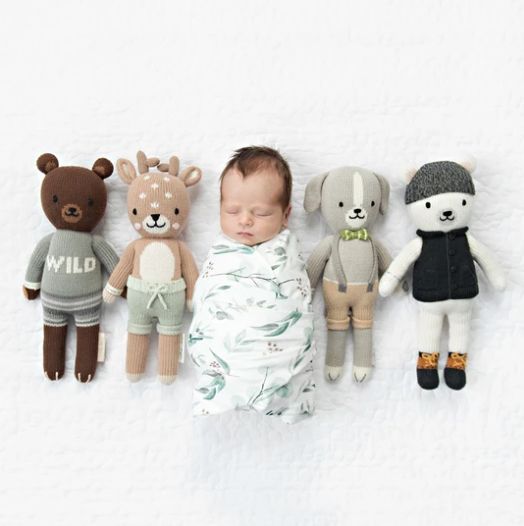 Cuddle + Kind Hand Knit Dolls
Not only will these hand knit dolls bring a little happiness into a baby's world, but purchasing any doll from Cuddle + Kind means 10 meals are provided to children in North America and around the world. You can check out all the cuteness on their site.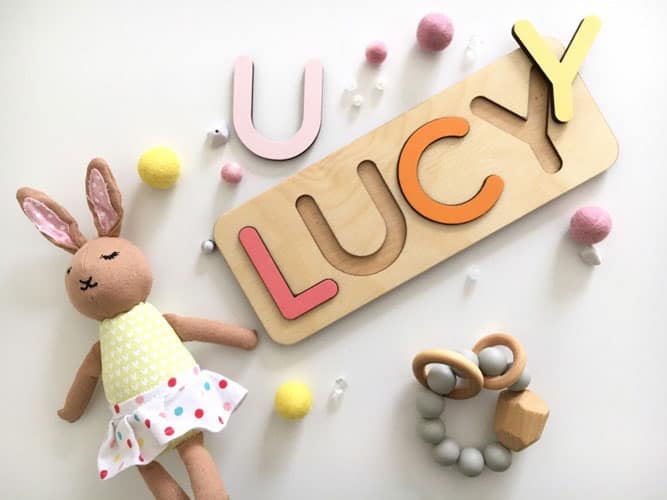 Personalized Name Puzzle
This custom puzzle makes a great gift for newborns – this keepsake will stick around for years. You can find them on Etsy and Fat Brain Toys.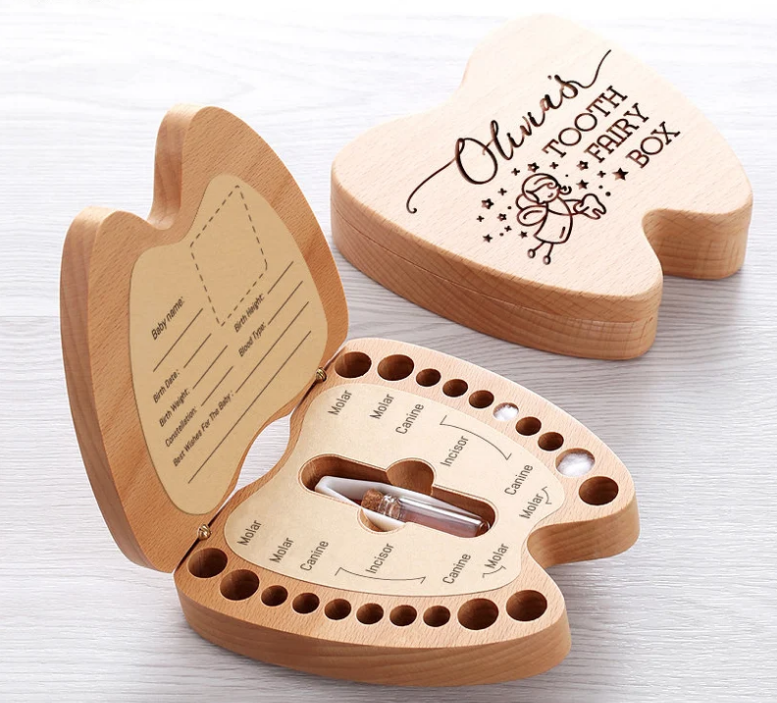 Handmade Baby's Tooth Box
This may not be everyone's cup of tea, but it does solve the question of, "what do I do with all these teeth!?" It feels weird to throw them away and weird to keep them. You can find it on Etsy.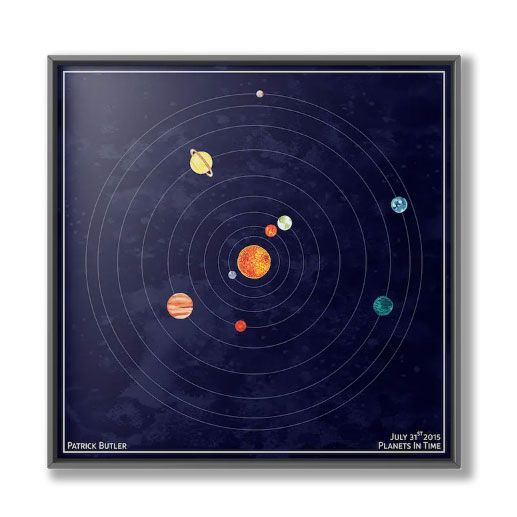 Planets in Time Print
These personalized prints use NASA algorithms to accurately plot the planets to your chosen date. I love that they aren't too 'babyish' and would grow with a kid. You can find them on Etsy.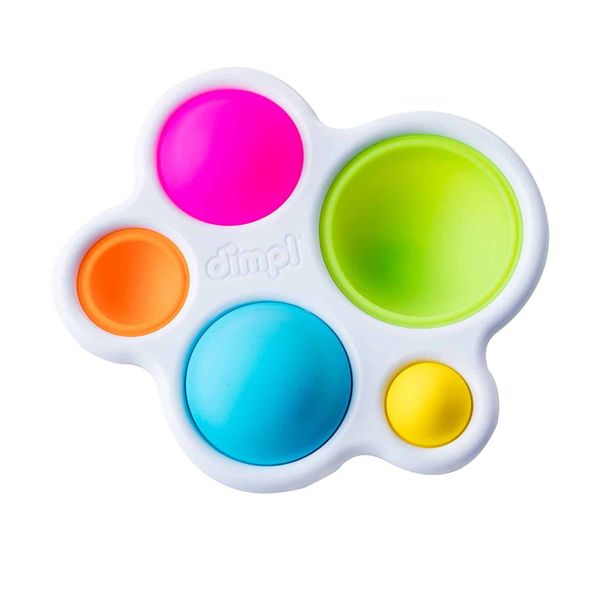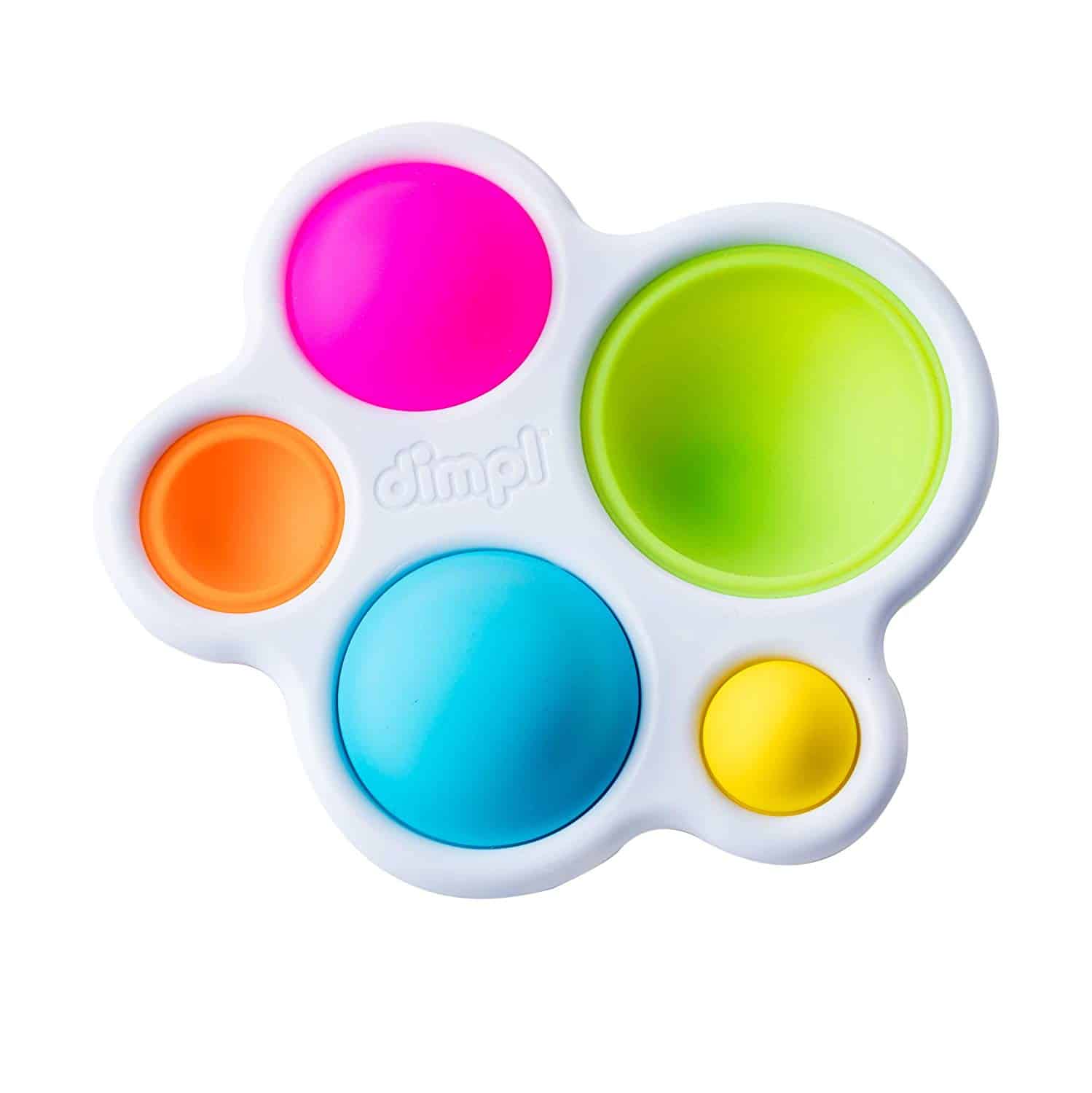 Fat Brain Toys Dimpl
Push and pop them, poke and grab them; A perfect, portable sensory delight. I love this toy company and you really can't go wrong with any of their baby toys. You can find them here.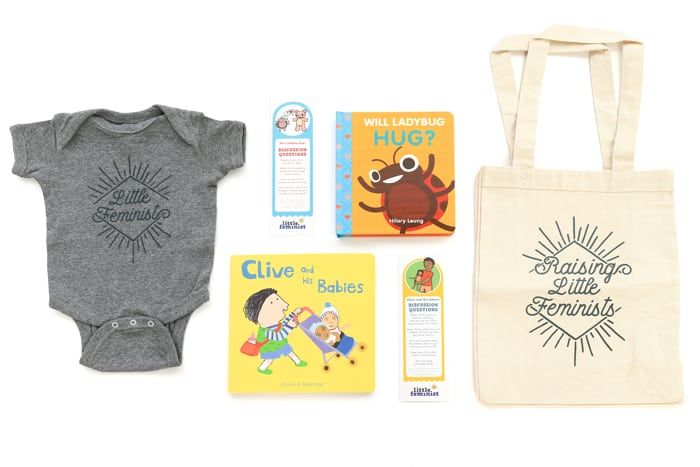 Little Feminist book club – 0-3-year-old
This amazing book club finds books that feature equality and empathy. Diversify your bookshelf with their BEST picks for 0-3-year-olds. Receive 2 board books or 1 picture book each month. Includes: bookmark with discussion questions and parent letter. You can find our review on them here.  You can check it out on the site.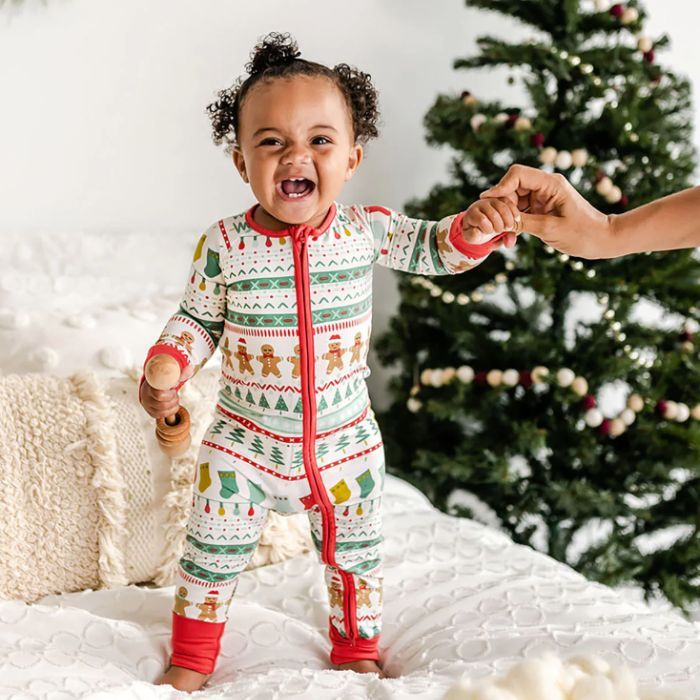 Little Sleepies PJs
If you want to start a holiday tradition of new pajamas for the family, definitely check out these cute options. There are holiday prints and year-round choices made from the softest eco-friendly bamboo fabric. They also make adult PJs, so the entire family can be adorably matchy (including the family pet).  Find them on the Little Sleepies website.
Clover Baby PJs
Clover Baby is another shop that does incredible prints. I love these Hanukkah PJs – they come in a footie style and a two piece pajama set. You can find them on the Clover Baby website.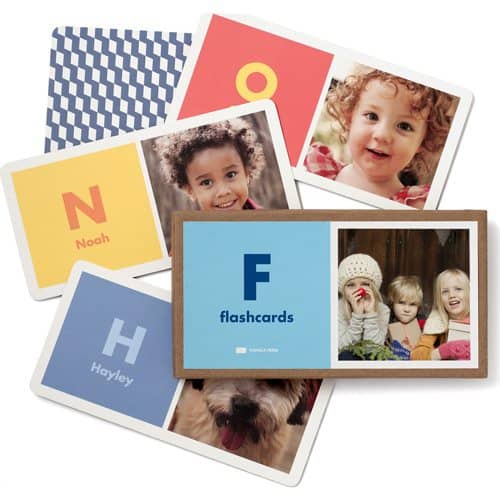 Pinhole Press Custom Photo Flash Cards
Combining memories with education, these photo alphabet flashcards from Pinhole Press are customizable with photos of your choosing. Your family, pets, and toy xylophone are sure to make an appearance. You can customize them on the Pinhole Press website.
Wooden Hanukkah Memory Game
These Hanukkah tiles run a little old for an infant (obviously) but they are a beautiful keepsake that is sure to be played with every year. Find them on Etsy.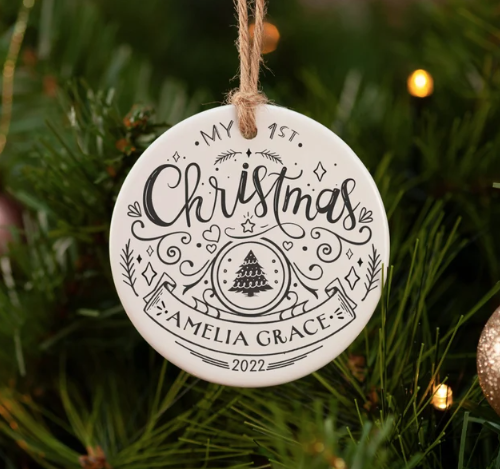 Baby's First Christmas Ornament
This simple, customized ornament is a lovely take on the timeless classic and makes a great gift for a newborn. From Etsy.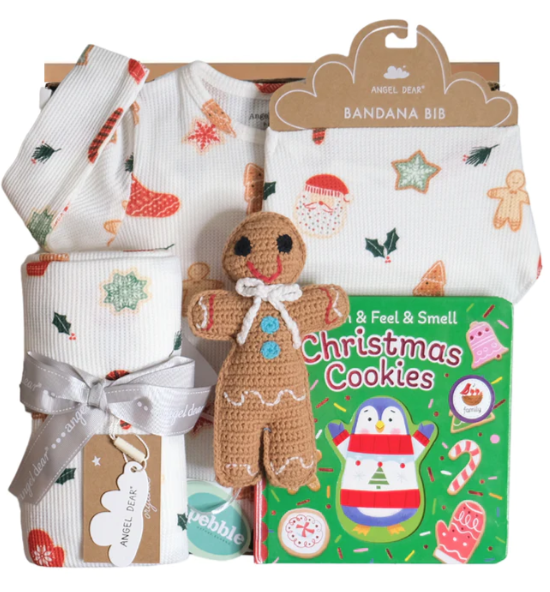 Honey Bug Gift Box
Honey Bug curates beautiful gift boxes that are great if you want to get a baby gift where someone else has done the heavy lifting of finding all the best stuff. They are also wonderful if you want to ship a gift directly to the recipient. You can shop them here.
Do you know of other great Christmas or holiday gifts for newborns?
I'd love to hear your suggestions!
Our next reco: 100 Great Gift Ideas for Babies Under One