If you're like me, you've got every intention of *one day* creating your own photo book to have as a keepsake. However, the reality is that finding the time, the right type of book or even knowing where to start can be tough. The worst part comes when you actually do get going on creating the photo book of your dreams only to realize they don't ship to Canada.
The great news is, there are plenty of companies out there who not only have fantastic design options that make photo book building a breeze, but are also either based right here in Canada, or provide shipping if they don't.
Here are some of the top picks for Canadians to consider when making a photo book to capture their best photos and favourite memories.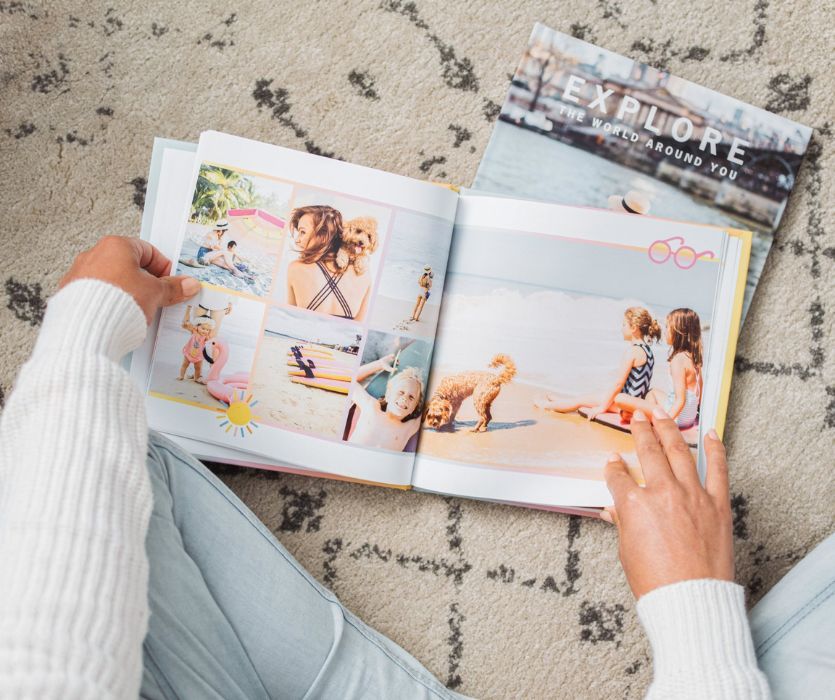 Easiest To Use
Prices in: CAD on their Canadian site
Shipping info: Standard shipping costs start at $13.99 for a 6×6 photo book. Here's a full breakdown of all shipping prices.
Mixbook's app and desktop browser make designing your custom album a snap. Try the "Automagic" feature in the app if you want to let Mixbook do its thing by scanning your camera roll and selecting and adding similar photos into customizable photo books.
Once you've added photos to your book, you can make it extra special by selecting your favorite themes, stickers, captions and backgrounds. Finally, pick a cover style and size and paper finish and you're all set! Start making your Mixbook here (and watch out for deals – they often have discounts on their site!)
Be sure to use the code MIXPC50 to get up to 50% off Mixbook – sometimes, the promos they are running on the site are even better, so check them both. (see below for the nitty gritty.)
Get up to 50% off Mixbook with the code MIXPC50
50% Off $129+, 40% Off $99+ or 30% Off PLUS Free US & CA Standard Shipping on orders $70+: Free U.S. & Canada Standard Shipping applies to orders over $70 within the continental United States or Canada only.
This offer is only valid with coupon code MIXPC50.
Enjoy 50% off orders over $129,
40% off orders over $99,
or 30% off everything else.
Order must total $129 or more before discount, shipping and tax is applied to qualify for 50% off discount, or $99 or more before discount, shipping and tax is applied to qualify for 40% off discount.
This offer cannot be combined with other coupons, vouchers, Groupons, or applied after an order has been placed. 6×6 photo books are excluded from this offer. Discount applies only to completed projects. No adjustments on previous purchases. Taxes will apply. Offer expires 07/31/2023 (11:59 pm PT).
---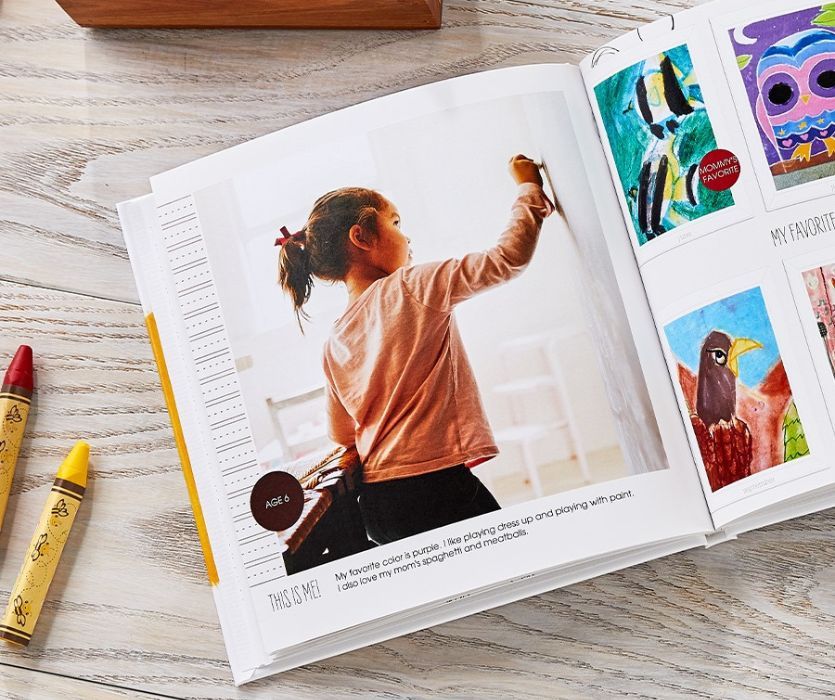 Great Design Options at an Awesome Price (For Costco Members)
Prices in: USD
Shipping info: Standard shipping is available via a delivery expediting service with delivery through Canada Post. Shipping typically takes 8-16 business days. Duty fees are included with shipping charges in your cart. Orders over $49 come with free shipping when you order using your Costco membership.
Shutterfly is one of the OPs (that is, Original Photo bookers). Head to their site and select "Make It Manually" to make your book yourself, or pick "Make It Fast" to let Shutterfly select photos and design your book, with the option to tweak at your leisure. If you'd really rather leave the book designing up to the pros, check out the Make My Album Designer Service and let the folks over at Shutterfly do their thing.
Parents will love the special themes, personalized books, board books and baby book options available in the "Kids" section. Get started on your book here.
Costco perk: If you've got a membership, Costco has recently partnered with Shutterfly to take your photo experience to the next level and save you some moolah in the process. Costco members get 51% off every Shutterfly order and also get free shipping on orders over $49! Find out more about ordering your Shutterfly book at Costco prices here.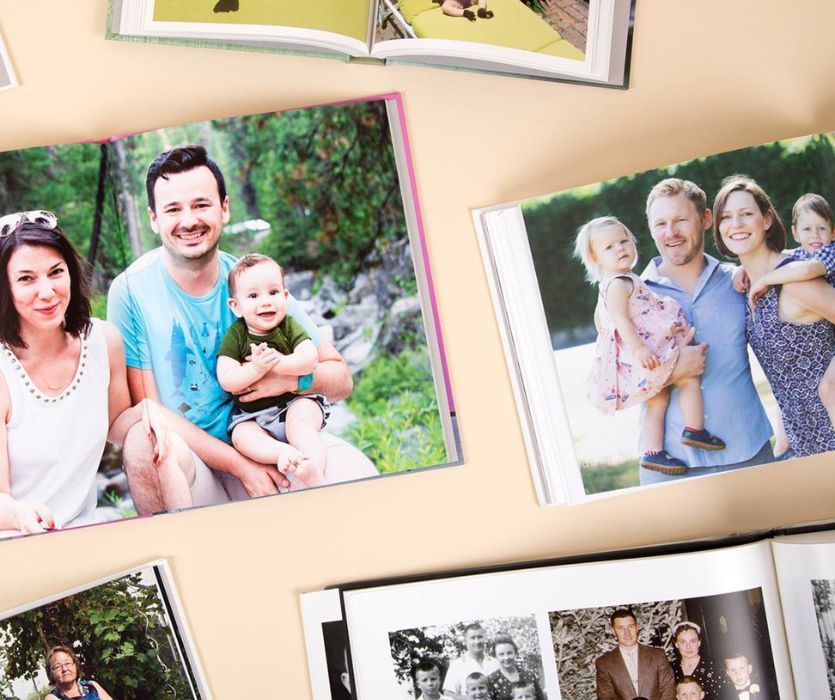 Great if you are a hardcore designer
Prices in: CAD
Shipping info: Blurb ships to over 70 countries. Standard shipping in Canada for a photo book starts at $14.99 and takes a little over two weeks. Click here for more specifics on shipping deets.
If you've got photos stored all over the place, Blurb makes importing those images into a photo book easy peasy. Pull your favorite pictures from Instagram, Facebook, Adobe Lightroom, Photoshop or your computer and your high-quality book will be just a few clicks away, thanks to BookWright – Blurb's free design tool that allows you to take as much (or little) creative freedom as you'd like with the process.
For something extra special, you can even create cookbooks, kids' books, travel and year books. Get started on whatever book you choose here.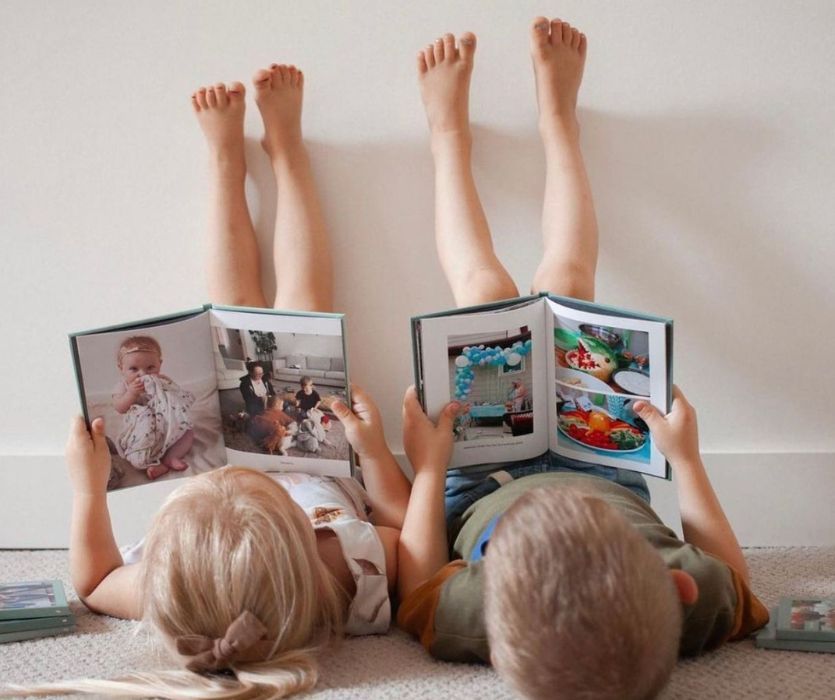 Best Subscription Options
Prices in: CAD
Shipping info: Shipping cost is based on the weight, size, and final destination of international orders. Shipping starts at about $5 for a softcover photobook.
Chatbooks has two basic options for photo book making.
Your first option (and a pretty genius one, to be honest) is to have Chatbooks pull photos for you on a regular basis, put them in a book, and send them your way, subscription style. When choosing your subscription, you can either choose Monthbooks, which are 30 pages and come in softcover ($10) or hardcover ($15), 5×7", or Monthly Minis, which are a bit cheaper ($7) 5×5", 30-page books.
If you'd like a one-off book, or something a bit more customized, your second option is to design your book from cover to cover. Chatbooks are my go-to grandparent gift every year for birthdays, Christmas – you name it. They're easy, affordable, and a hit every single time. Check them out here.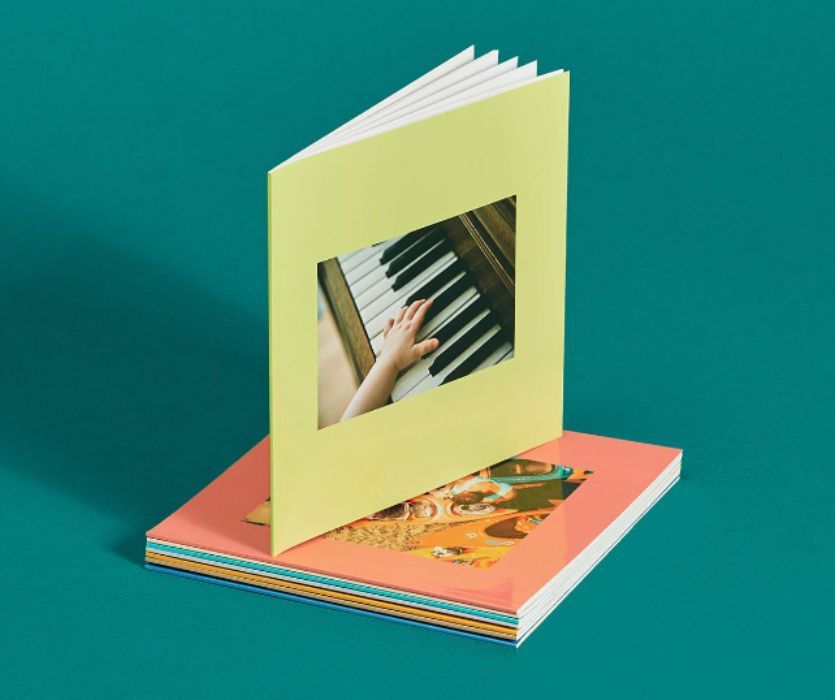 Beautiful Eco Friendly Options
Prices in: CAD
Shipping info: Shipping available anywhere in Canada; cost is dependent on quantity ordered.
Black's has been in the photography game since it was known as "Eddie Black's Camera Store" in Toronto in 1946. Although they no longer have storefronts across the country, they're Canada's leading online photo printing service which means you're guaranteed to get quality prints whether they come in the form of individual photos, cards, calendars, wall art puzzles, mugs, photo books, or just about anything you can think of.
Their photo books come in a variety of cover options, are available in different sizes, and are easy to customize by adding backgrounds, text, clipart, and arranging and rearranging your photos til you're totally satisfied. Get started on your book here.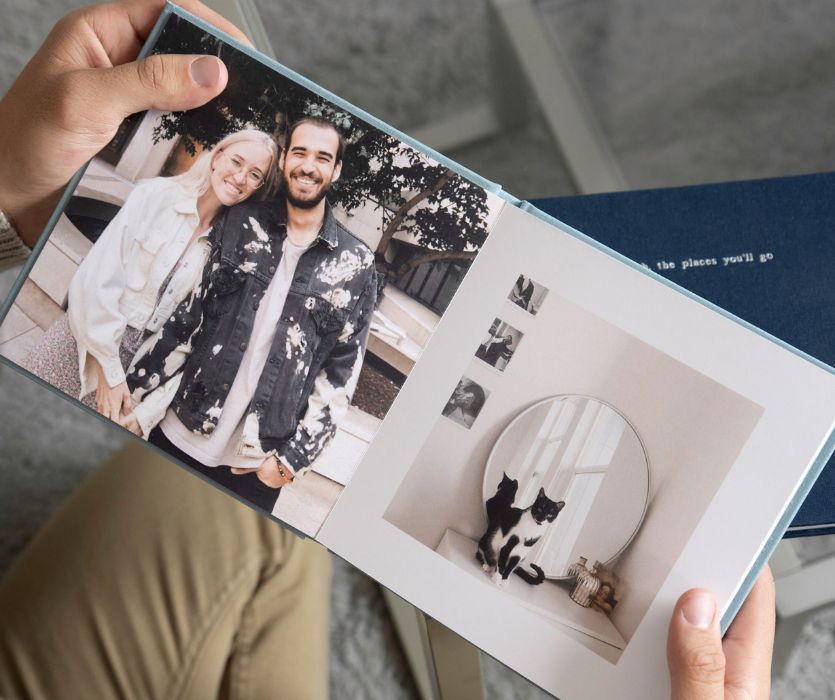 Best "Hand It Over" Option
Prices in: CAD
Shipping info: Shipping to Canada is available through FedEx International Economy. Rush shipping is not available. Import duties and taxes are not included in shipping price, so you may find yourself getting dinged at the door.
Artifact Uprising has a really unique and handy photo book service for folks who just don't have the time or energy to curate an album on their own – their designers do the work for you!  
Share your vision on your album and then upload your photos. From there, a design team will create your book and send it to you to preview and proof it. Once you're happy with the layout, you can add the finishing touches by choosing your photo book size, quality, and any special extras like premium paper options, cover material and lay flat pages.
Also, check out their popular "The Story of You" books for your kids through years 0-1 and 1-5. These  books are a little more old school and allow you to write by hand your responses to prompts about life in your kids' first years including their birth story, milestones and more.
"The Story of You" books come with a code for a free set of Everyday Prints to start adding to your album. Head over to Artifact Uprising here.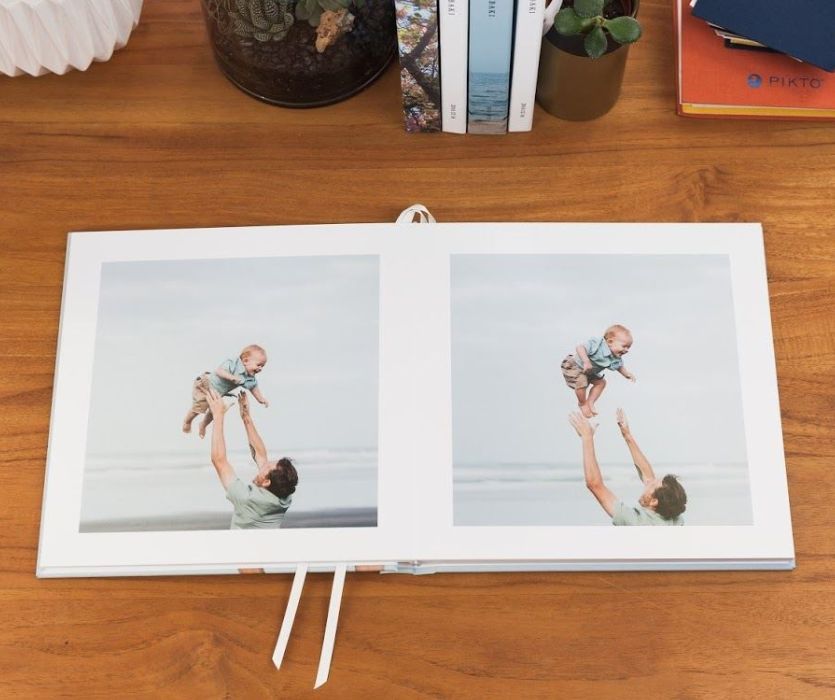 Best Themed Books
Prices in: CAD
Shipping info: Shipping is free on eligible orders over $125. Shipping starts at about $10 for ExpressPost through Canada Post. Pickup at their store in Toronto is free! See a full breakdown of shipping costs here.
Pikto is a Toronto-based company that designs and prints gorgeous minimalist photo-themed goodies like albums and photo books, prints, cards, wall displays and keepsakes like ornaments, mugs, calendar cards and more. They have a variety of cover types including hard cover, soft cover, linen, and even a sustainable collection made from environmentally friendly materials.
Their Family Collection has special themes including "My First Name Book", "My First Year Book", "My First ABC Book" and a "Legacy Book" to commemorate your family's history. Pikto also has a monthly photo book option to create 30+ image books using a ready made template starting at $21.45. Check them out here.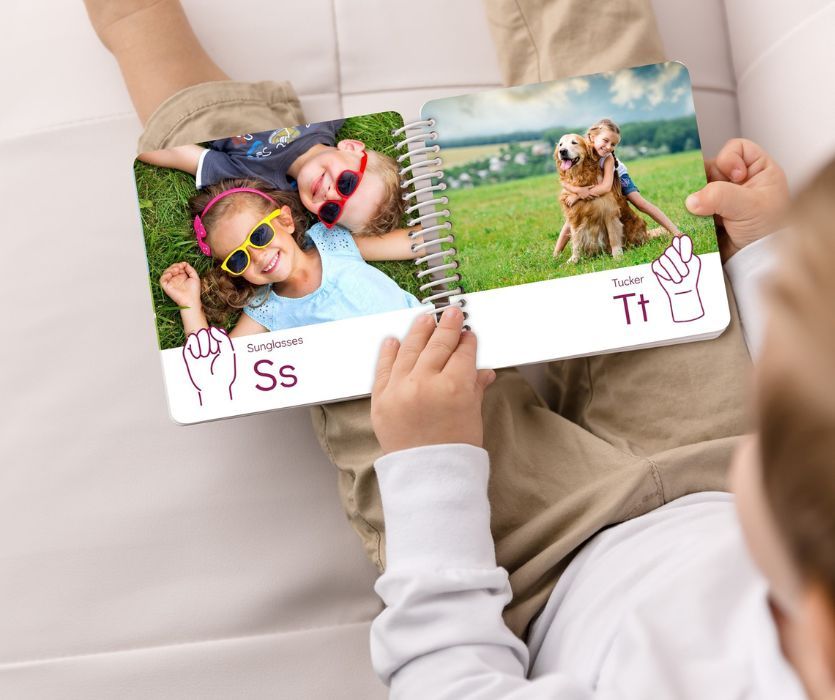 Cutest Board Books For Kids
Prices in: CAD
Shipping info: Shipping charges to Canada include shipping costs and customs fees and vary based on weight, customs fees and how soon you want your order to arrive. Costs start around $4 for a board book and $10 for a photobook.
Board books are pretty much a staple in every baby's first library, but custom board books from Pinhole Press will take those little shelves to a whole new level. Whether you want to make a baby gift that's truly one of a kind, or want to create something extra special for your own little one, it's easy to design a custom board book or story that'll be loved by parents and babies alike. Head over to Pinhole Press to start making yours!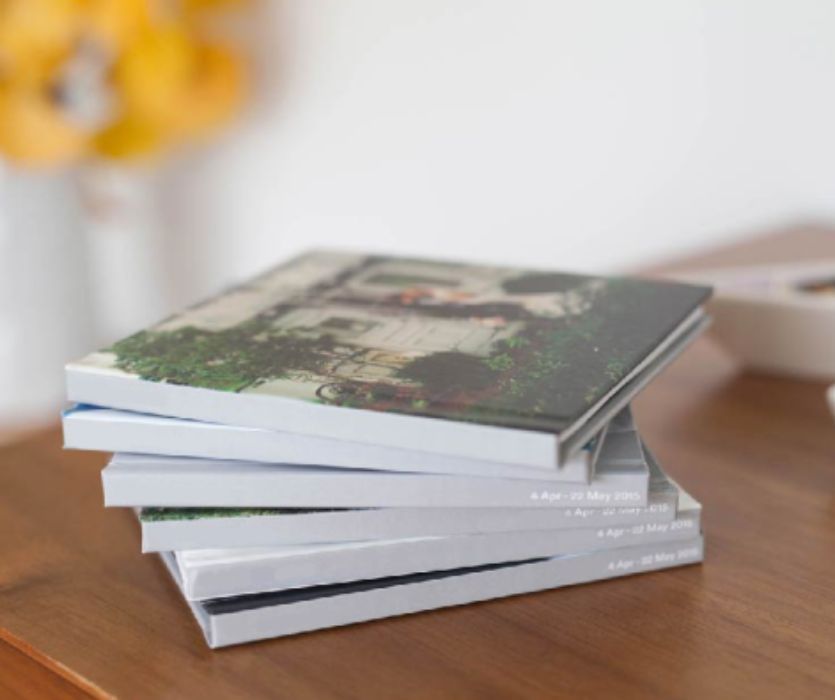 Best "One Stop Shop" Option
Prices in: USD
Shipping info: Shipping is free worldwide with a Tinybeans account. Without an account, standard shipping for a photobook starts at about $10 and takes 10-20 business days.
Tinybeans is the parenting site that does it all, from storing photos to compiling them in online, shareable baby journals that you can then have printed as photo books. (We have a full review on Tinybeans here.)
Tinybeans accounts start at $4.99 USD per month or $39.99 per year. Your membership includes unlimited video and photo storage, private sharing of memories with friends and family, access to events, advice and more curated for your family, and free shipping on photo books. Start building yours here.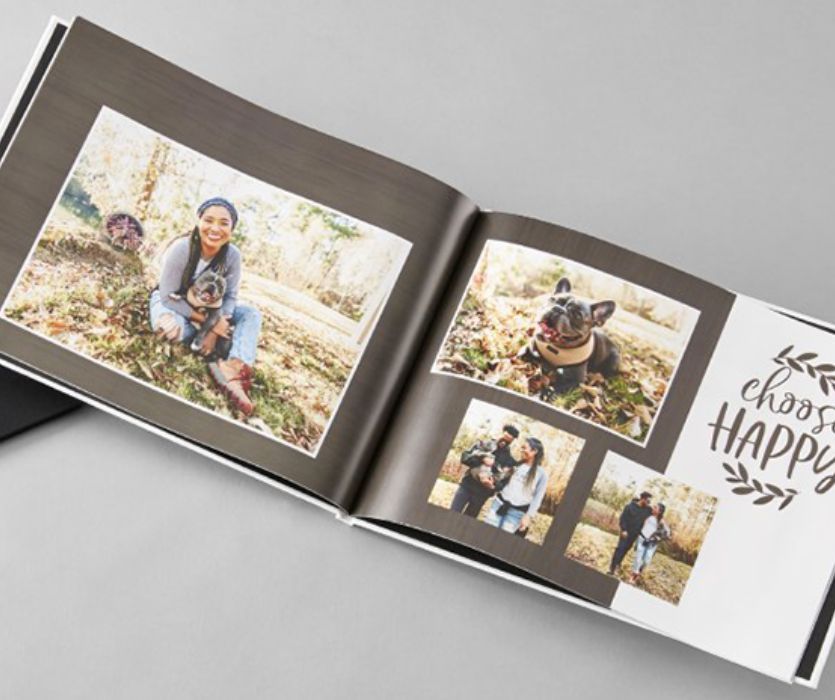 Most Budget-Friendly
Prices in: CAD
Shipping info: Ship free to store; standard shipping to your address starts at around $12
Walmart offers easy to make lay flat, softcover and hardcover photo books all for a great price. You can pick your photo book up in-store, have it delivered or even create an express photo book in-store that can be ready the next day. If you're looking for something unique, they have a 7″ video photo book that can hold up to 75 photos. You can check it all out on the Walmart Photo Center here.
What's My Best Photo Book Option If I Live in Canada?
There's no shortage of great options available when it comes to creating photo books to capture all of those special moments in your life that go by way too fast.
If you're looking for the best book in general that comes at a good price with decent shipping and no surprise costs at the door, I'd go with Shutterfly (if you're a Costco member) or Mixbook (especially if you can use one of their frequently offered discount codes).
You might also like: 100 Photo Ideas for Your Baby's 'Fresh 48' in the Hospital