Many parents are concerned about some of the safety around traditional talcum powder. Considering some of the studies linking it to cancer, as well as the talcum powder lawsuits popping up as a result, you can hardly blame anyone for looking for another option.
What is Talcum?
Talcum, or talc, is a super soft mineral that was used on baby bums for many years to absorb moisture and reduce friction – the primary culprits when it comes to nasty diaper rashes. It was also popular among women to use for feminine personal hygiene since the late 1800s, which is why it's probably still kicking around in your grandma's bathroom cupboard.
Why is Talcum Powder Dangerous?
Talc is often found close to asbestos in mining sites. Because these two minerals are determined to be besties, it's impossible to separate asbestos fibers from contaminated talc. While asbestos is known to cause cancer, it's not the only culprit here – even pure talc isn't considered safe to use below the waist. This is because talc particles can find their way into the upper reproductive tract where they can cause inflammation since they take forever to dissolve. This inflammation can lead to cancer growth.
In 2010, the International Agency for Research on Cancer concluded that there is a "clearly established causal association between asbestos exposure and ovarian cancer". In 2020, Johnson & Johnson announced that they would stop selling talc-based powder in Canada and the United States. In 2021, Health Canada completed an extensive study and from its findings recommended restrictions on talc sales in Canada.
What Can I Use Instead?
If you're looking for a replacement for traditional baby powder, there are quite a few safe, talc-free options out there. Some folks on the internet have recommended cornstarch (like, straight out of the baking aisle) as an alternative to talc. It's cheap, you can find it in your kitchen cupboard, and it can help to absorb moisture and reduce chafing. However, it can also worsen yeast-related infections and rashes so keep an eye on that if you decide to try it out.
If you're struggling to keep the rashes at bay even with the most diligent diaper changes and moisturizing routines though, here are a few products you can try.
⭐
Keep in mind that any powder-based products should be kept away from your baby's face (and your own) when it comes out of the bottle to avoid any potential respiratory issues.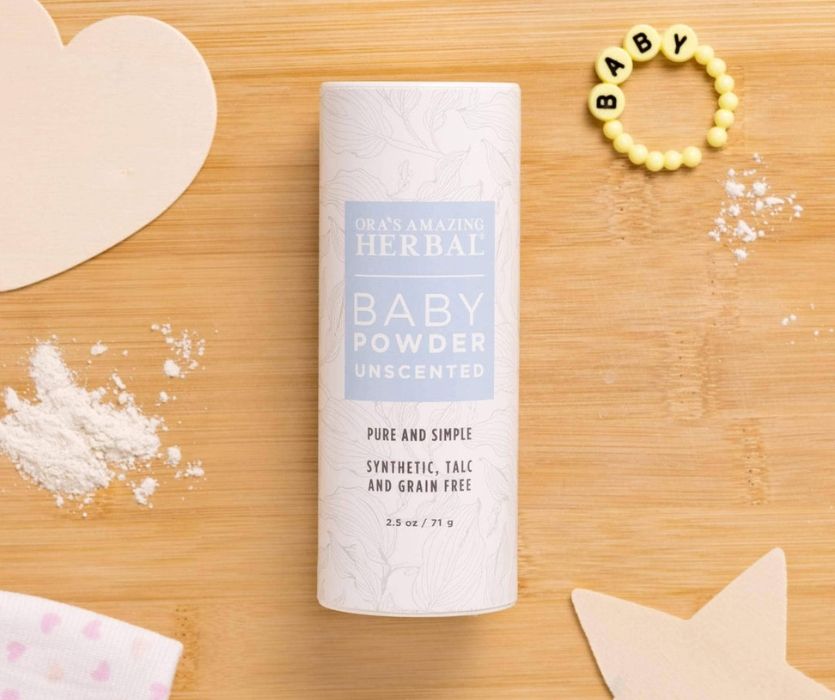 Ora's Amazing Herbal Talc Free Baby Powder
The name may be a bit of a mouthful, but you won't mind asking for it once you see the wonders it can do for your baby's bottom. Kaolin Clay, Organic Plantain Leaf and Pure Arrowroot keep things dry and prevent rashes, and a teensy pinch of antimicrobial baking soda helps avoid irritation. For a powder-free alternative, the brand recommends trying their Newborn or Baby Salves. Get the baby powder on the website or on Amazon.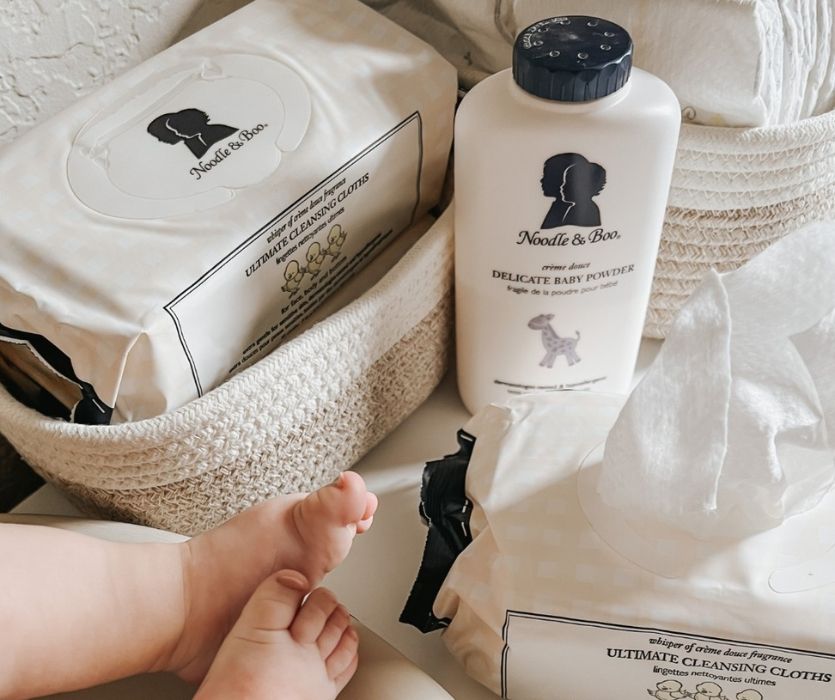 Noodle and Boo Delicate Baby Powder
Noodle and Boo's baby powder is non-allergenic and non-irritating for the most sensitive baby skin. Cornstarch and Oat Flour help to protect skin against chafing and irritation, while Aloe Vera and Allantoin soothes rashy skin. You can find it at Nordstrom and Amazon.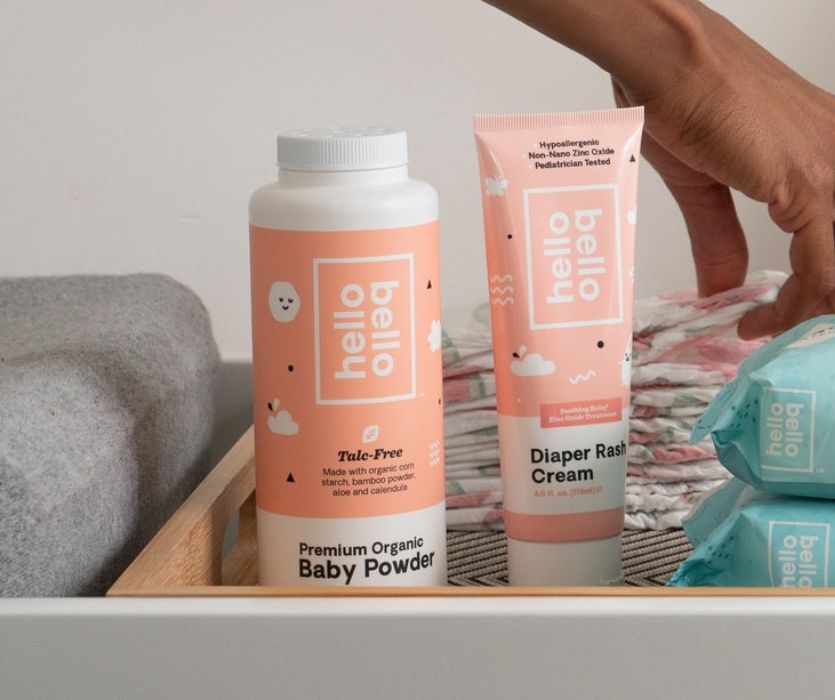 HelloBello Organic Baby Powder
HelloBello's talc, fragrance and phthalate-free offering is made from cornstarch, Bentonite Clay, Bamboo Powder, Arrowroot Powder, Aloe Vera Leaf Extract and Calendula Flower Extract. Parents have ranked it one of the top talc-free baby powders out there. Get it on the HelloBello website and on Amazon.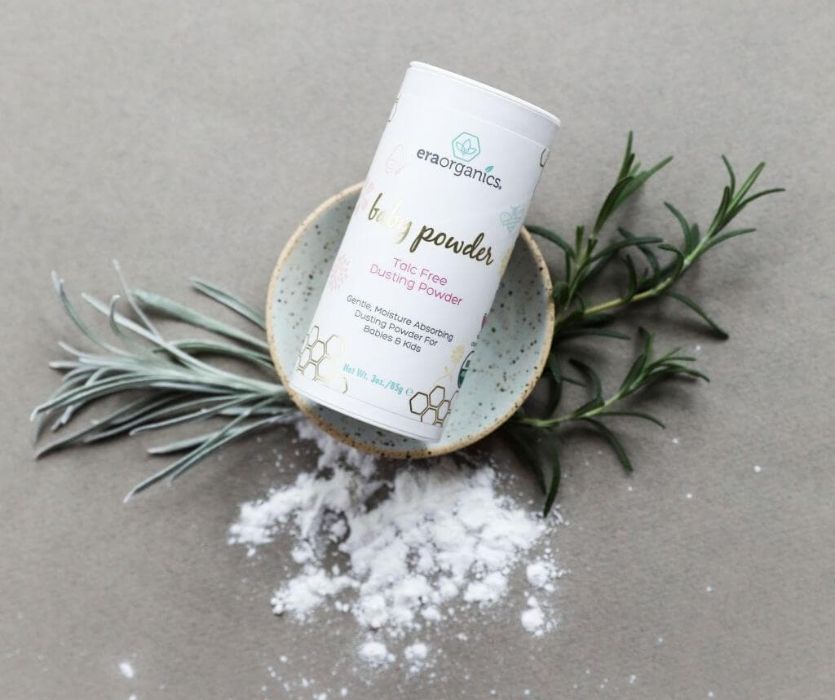 Era Organics Baby Powder
Organic Arrowroot Powder, Kaolin Clay and Calendula and Rosemary Extract are the primary ingredients in Era Organics Baby Dusting Powder. This powder is free from fragrances and toxins and is certified USDA Organic. Get it on Amazon.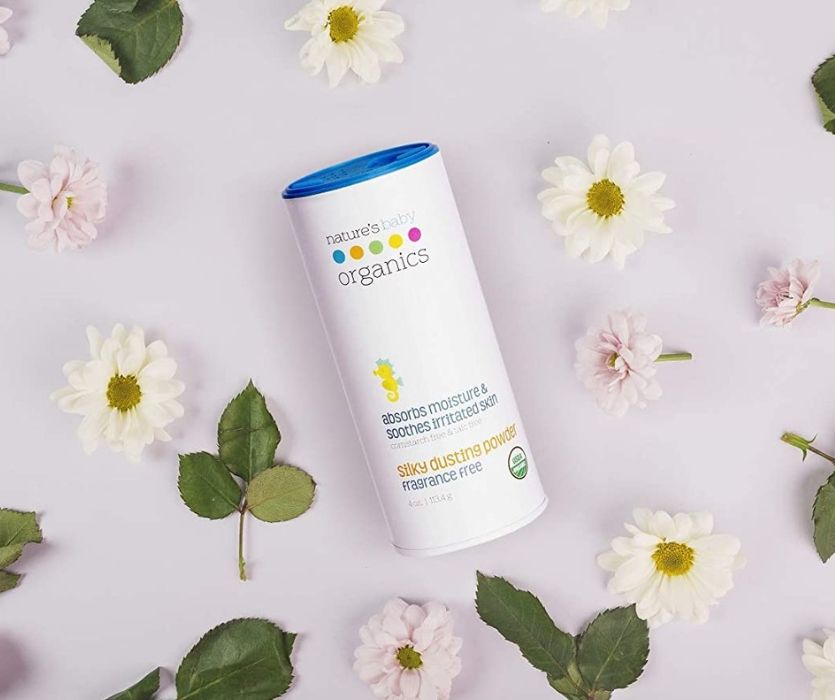 Nature's Baby Organics Silky Dusting Powder
Nature's Baby's USDA Certified Organic, talc and corn-free baby powder is here to make diaper rashes a thing of the past. Organic tapioca starch will keep your baby's bum dry and smooth while added chamomile, aloe and echinacea can help to soothe irritated skin. Find it on Amazon.
Bee All Natural Organic Baby Powder
This baby powder from Bee All Natural Organics may look a little different than other powders on the market because it contains no dyes or bleaches (so don't freak out when you notice its off-white hue). Organic Arrowroot, Calendula Flower, Chamomile, Plantain Leaf and Marshmallow Root Powders are the key ingredients. Parents of babies using cloth diapers seem to swear by this one. Find it on Amazon.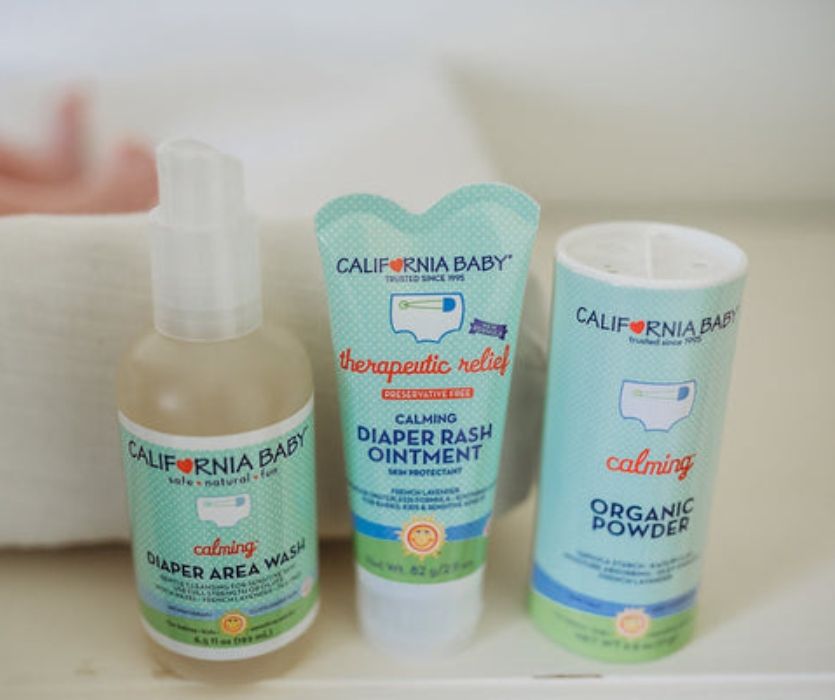 California Baby Calming Organic Powder
California Baby's Calming talc-free powder is vegan and certified organic. It uses natural moisture-absorbing ingredients such as kaolin clay and tapioca starch to absorb any moisture collecting in the folds around your baby's chubby cheeks and has a light lavender scent you can't get enough of. Find it on the California Baby site.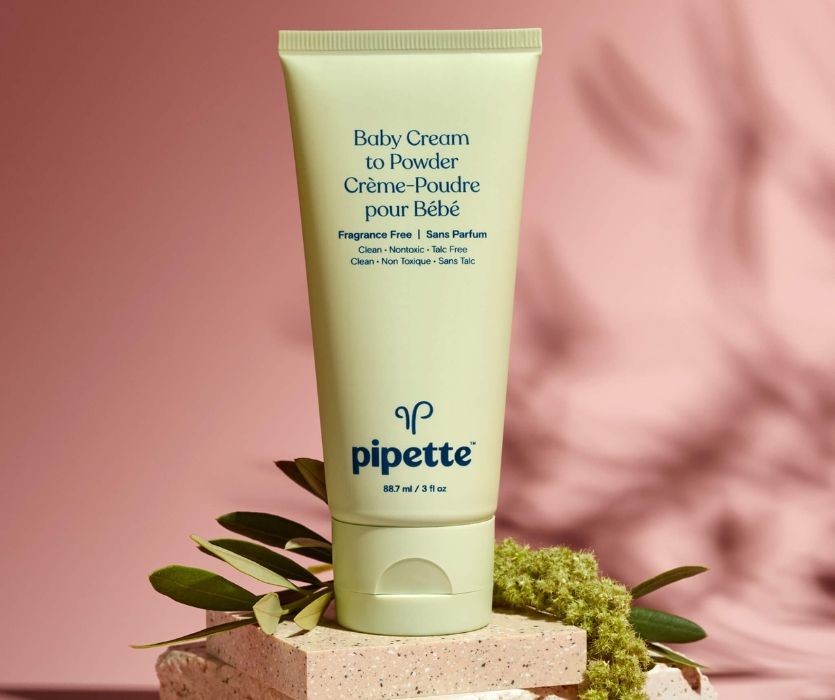 Baby Cream To Powder By Pipette Baby
If you're looking for a powder-free option for your babe's next diaper change, Pipette Baby's Cream to Powder starts as a cream and dries into a velvety texture that helps to minimize moisture and irritation. Squalane and Mango Butter help to keep your baby's skin moisturized, while Tapioca Starch keeps wetness at bay. Find it on the Pipette website.
Do you have a talc-free diaper change option that you and your baby swear by?
Did your favorite brand make the list or are there some that should get added? Be sure to pop 'em in the comments!
You might also like: Your Helpful Guide to Diaper Rashes