As parents, we understand that soothing an unsettled baby can be both challenging and exhausting. Spending long hours each day patting, shushing, rocking, bouncing, and cuddling your little one in the hopes of calming them can sometimes feel frustratingly ineffective. However, there's a natural instinct in babies to suck, and this is where baby soothers, dummies, or pacifiers come to the rescue.
At Newbornbaby, we've dedicated ourselves to gathering valuable feedback and reviews from our fantastic community of parents. We've compiled this list of best baby soothers to create a comprehensive guide that will assist you in making a more informed decision among the diverse range of baby soothers available.
BIBS Glow
Introducing BIBS Glow, a pacifier that combines the trusted quality of BIBS with a practical glow feature for both parents and little ones.
Glow in the Dark: The BIBS Colour GLOW pacifier features a glow effect that makes it easy to find in the dark, eliminating the frustration of searching for a pacifier during late-night cries. Simply expose it to a lamp for 5-10 seconds to activate the luminescent effect, which lasts for over 8 hours.
Available in Natural Rubber Latex
Safe Food-Grade Material: The shield is crafted from 100% safe food-grade material
Designed and Manufactured in Denmark/EU, upholding the highest quality standards.
A Sleep Saver: This best-selling pacifier from BIBS empowers parents to avoid fumbling around in the dark during nighttime feedings, providing a soothing and convenient solution.
RRP $22.95 – Available in 3 Sizes – Size 1: 0+ months,  Size 2: 6+ months and Size 3: 18+ months

NUK for Nature Latex Soother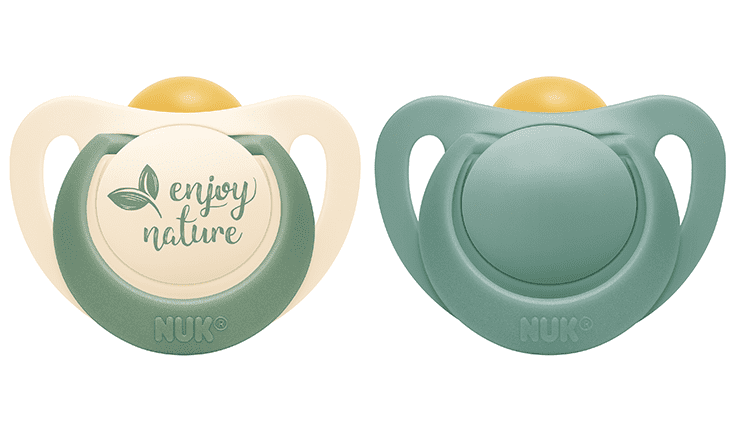 The NUK for Nature Soother embraces the power of natural ingredients, reflecting NUK's belief that nature provides the best soothing solution for your baby.
Inspired by Nature: features a round top and a flat underside, nestling against the baby's palate while providing space for the tongue, delivering a natural and comfortable experience.
Natural Materials: Crafted from over 98% natural and sustainable raw materials, these soothers are not only gentle on your baby but also on the environment. They are made from sustainable plastic, are BPA-free, and feature a 100% latex baglet sourced from the milk of the rubber tree.
Sustainable Packaging: The packaging is crafted from 100% FSC-certified paper, ensuring it can be easily recycled, supporting eco-friendly practices.
Variety of Calming Colors: Available in packs of two and comes in three calming colorways: Green Eucalyptus, Cotton Fresh, and Terracotta Red, catering to your baby's preferences.
Recommended by Medical Experts: This soother comes highly recommended by medical experts as it does not cause misalignment of teeth, promoting your baby's oral health*.
RRP $14.95 – Available in three sizes: 0-6 months, 6-18 months and 18-36 months

Medela Soft Silicone Soother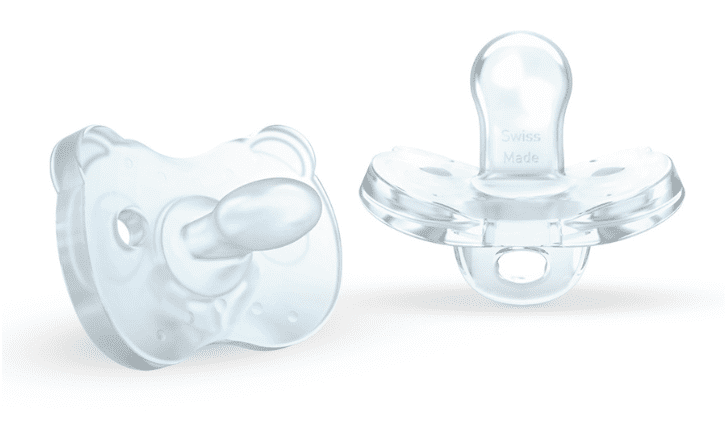 Elevate your baby's comfort with the Medela SOFT SILICONE soother, a meticulously designed product to support natural suckling and enhance the bond between you and your little one.
Super Soft Silicone: Crafted as a one-piece design, the soother offers exceptional softness for a gentle and comfortable experience.
Orthodontic and Lightweight: The soother is orthodontic and lightweight, promoting proper oral development and comfortable use.
Swiss Quality: Developed in collaboration with experts and proudly made in Switzerland.
Skin-Friendly SensoPearls™: Reduce the risk of redness and skin irritation for a gentler feel on your baby's skin.
Safe and BPA/BPS-Free: Crafted without BPA and BPS, ensuring your baby's safety is a top priority.
RRP $14 – Available in Two Sizes (0-6 Months &  6-18 Months)

Nanobebe Flexy Pacifier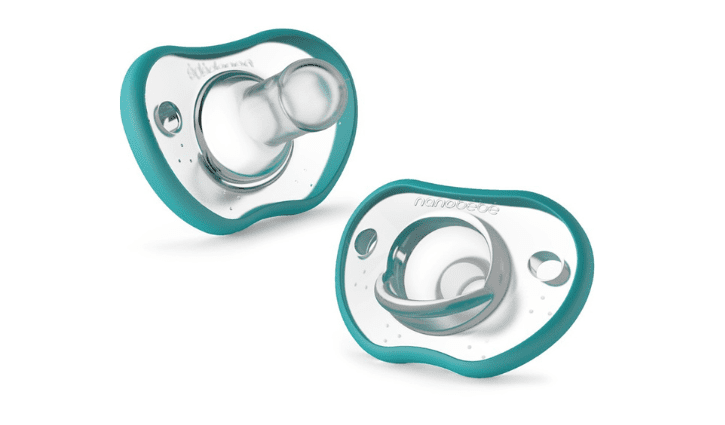 Introducing the Nanobebe Flexy Pacifier, designed to provide comfort and support from day one for your newborn.
Extra-Soft Silicone Teat: Crafted for your baby's utmost comfort, the Flexy pacifier offers a gentle and soothing experience.
Lightweight and Ergonomic Design: The pacifier is thoughtfully designed to stay securely in your baby's mouth, thanks to its lightweight and ergonomic build.
One-Piece Silicone Construction: In compliance with the American Academy of Paediatrics Guidelines for newborns, the pacifier's one-piece construction ensures safety and ease of use.
Unique Teat for Healthy Oral Development: The unique nipple shape promotes healthy oral development and helps prevent nipple confusion during breastfeeding.
Different Sizes Available: Choose from various sizes to match your baby's developmental needs.
RRP $28.49 (0-3 months – Teal 2 x 2 Pack)

Tommee Tippee Breast-like Night Time Soother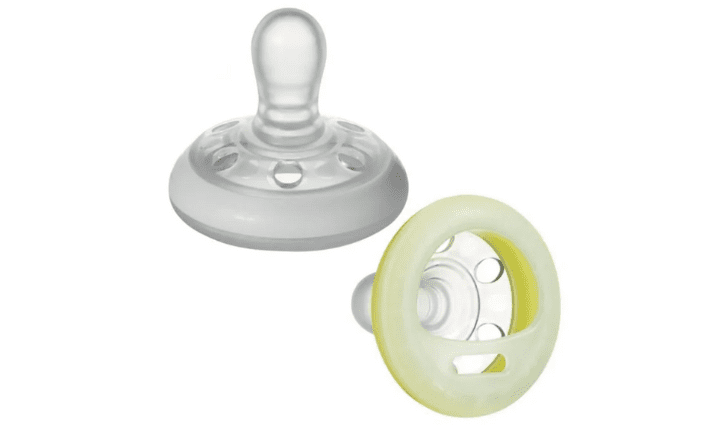 The Tommee Tippee Breast-like Night Time Soother is designed to provide a soothing and natural experience for both babies and parents.
Breast-Like Teat: Inspired by our award-winning Closer to Nature® teat, this soft silicone teat mimics the flexibility and stretching of a mother's breast, offering the most natural and comforting soothing experience for your baby.
Orthodontic Design: The oval reverse ortho baglet is vented, allowing it to compress more easily than traditional air-filled baglets. This reduces pressure on your baby's developing teeth and gums, promoting oral health.
Kind on Baby's Skin: The unique soother shield is designed to curve away from your baby's face, providing superior ventilation. This improved air flow reduces moisture build-up and helps prevent skin irritation.
Easy to Clean & BPA-Free: Cleaning is a breeze; you can sterilise it, wash it by hand, or place it in the top rack of your dishwasher. Always BPA and phthalate-free for your peace of mind.
RRP $12.95 – Suitable for ages 0-6 months

MAM Perfect Soother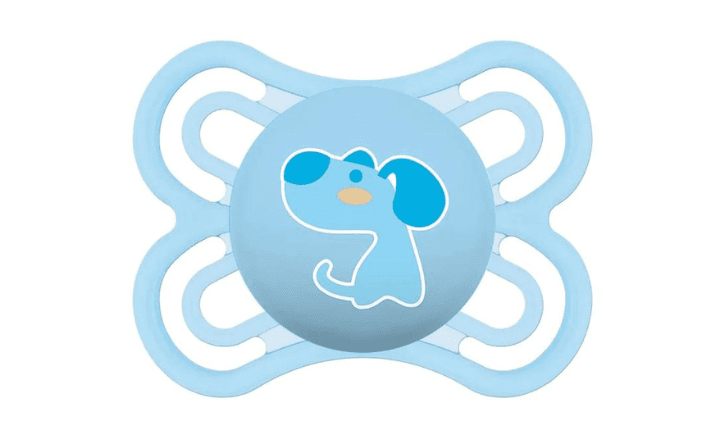 The MAM Perfect Soother is a favourite among babies for its outstanding comfort and thoughtful features.
Curved Shield for Maximum Comfort: The MAM Perfect Soother comes with a curved shield designed to provide your baby with the utmost comfort. The shield also features air holes for ventilation, ensuring a soothing and breathable experience.
Exceptionally Thin and Soft: This soother is 60% thinner and 4 times softer than standard soothers, making it gentle on your baby's delicate skin.
BPA-Free: As with all MAM products, the Perfect Soother is free from BPA, ensuring your baby's safety and well-being.
Self-Steriliser Box: Convenient for traveling, the MAM Perfect Soother includes a self-steriliser box, making it easy to keep the soother clean and hygienic on the go.
Orthodontic MAM Silk Teat: Developed with input from orthodontists and pediatric dentists, the MAM silk teat is ideal for your baby's jaw and teeth development. It reduces the risk of misaligned teeth, promoting healthy oral development.
RRP $9.95 

Avent Soothie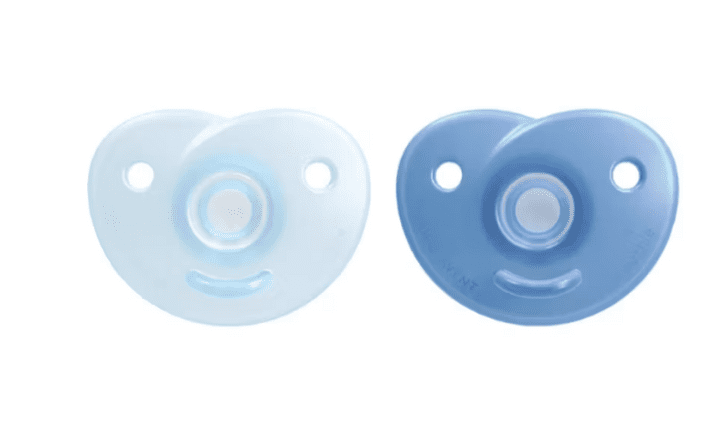 The Philips Avent Soothie is the perfect companion for your little one's comfort and development.
Curved for Enhanced Comfort: Designed to follow the natural contours of your baby's face, the Soothie's curved, heart-shaped shield ensures maximum comfort without bumping into your baby's tiny nose.
Medical Grade Silicone: Crafted from 100% medical-grade silicone, this one-piece design offers safety and durability that hospitals across Europe trust*.
Orthodontic Nipple: The Soothie features an orthodontic nipple designed to support your baby's oral development and comfort.
Unique Bonding Design: Beyond functionality, the unique design of the Soothie is intended to strengthen the bond between you and your baby.
Prevents Water Trapping: The thoughtful design of the Soothie prevents water from getting trapped in the nipple, ensuring hygiene and easy cleaning.
Handy Steriliser and Storage Case: For added convenience, the Soothie comes with a steriliser and carrying case, making it easy to sterilise and store when not in use.
RRP $17.95 (2 Pack) – Suitable For: 0-6 months

Jollypop Newborn Dummy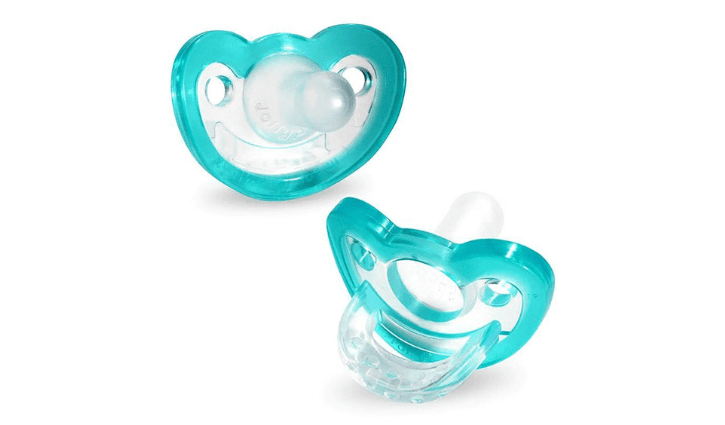 The Jollypop Newborn Dummy is a beloved and trusted pacifier renowned for its comfort, quality, and thoughtful design.
Hospital-Grade Quality: Crafted from 100% medical-grade silicone, Jollypop Newborn Dummy is the same material used in hospitals and neonatal intensive care units, ensuring safety and comfort for your little one.
Preferred in Australian Homes: For years, Australian families have turned to Jollypop due to its superior quality and design, making it a popular choice in households across the country.
No. 1 in Australian Hospitals: The Jollypop pacifier holds the esteemed position of being the No. 1 pacifier used in Australian hospitals, a testament to its safety and unique features. Hospitals worldwide continue to rely on Jollypop for its excellence.
TGA Listed: Rest easy knowing that the Jollypop pacifier is listed with the Therapeutic Goods Administration (TGA) in Australia, providing assurance of its quality and safety.
Made in the USA: Crafted in the United States, Jollypop is constructed from Phthalate-free, latex-free, BPA-free, and DEHP-free soft medical-grade silicone, ensuring it meets the highest safety standards.
Innovative Design: Babies adore the curved one-piece design with a textured natural shape nipple, and the easy-to-hold loop-shaped handle with teething nubs designed for chewing.
RRP $15.95 (Twin Pack)